Why Go Veg?
Vegetarian Times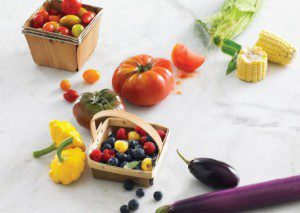 People are drawn to vegetarianism by all sorts of motives. Some of us want to live longer, healthier lives or do our part to reduce pollution. Others have made the switch because we want to preserve Earth's natural resources or because we've always loved animals and are ethically opposed to eating them.
Thanks to an abundance of scientific research that demonstrates the health and environmental benefits of a plant-based diet, even the federal government recommends that we consume most of our calories from grain products, vegetables and fruits. And no wonder: An estimated 70 percent of all diseases, including one-third of all cancers, are related to diet. A vegetarian diet reduces the risk for chronic degenerative diseases such as obesity, coronary artery disease, high blood pressure, diabetes and certain types of cancer including colon, breast, prostate, stomach, lung and esophageal cancer.
Why go veg? Chew on these reasons:
You'll ward off disease. Vegetarian diets are more healthful than the average American diet, particularly in preventing, treating or reversing heart disease and reducing the risk of cancer. A low-fat vegetarian diet is the single most effective way to stop the progression of coronary artery disease or prevent it entirely. Cardiovascular disease kills 1 million Americans annually and is the leading cause of death in the United States. But the mortality rate for cardiovascular disease is lower in vegetarians than in nonvegetarians, says Joel Fuhrman, MD, author ofEat to Live: The Revolutionary Formula for Fast and Sustained Weight Loss. A vegetarian diet is inherently healthful because vegetarians consume no animal fat and less cholesterol and instead consume more fiber and more antioxidant-rich produce—another great reason to listen to Mom and eat your veggies!