Vegetarian Cooking & Yoga Retreat
Bambra, Australia – April 10, 2013 (VNN)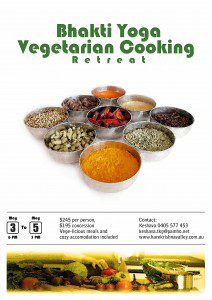 Do you ever feel like spending a relaxing weekend in the fresh country air soothing your body, eating fantastic food, enjoying wonderful company…
Then this is for you!
6pm Friday 3rd to 3pm Sunday 5th May 2013
A vegetarian cooking and yoga retreat
Relaxed, fun and informative classes for those desiring to increase their abilities in choosing and preparing great vegetarian meals. Take time away from the hassles of daily life to focus on your own physical and emotional health. Set in the foothills of the Otways Ranges, our retreat centre is an ideal place to spend a weekend eating delicious food, meeting others and focusing on your wellbeing.
This retreat runs over two nights and two days. As well as learning the secrets of vegetarian cooking from Melbourne based vegetarian chef, Sammohini dasi, you will experience the physical and mental health benefits of yoga, with yoga classes lead by yoga instructor Swaroop Sakti.
Learn how to cook delicious, traditional, yet easy to make dishes from around the world. From bread making to sauces and flavouring methods, this course will provide you with inspiration and ideas that are easily achievable in your own kitchen with the emphasis being on simplicity and fun. Classes include elaborate tuition, shopping hints, nutritional information and history. Detailed printed notes are provided.
Using local seasonal vegetables, many of which we grow in our organic vege patch, you will discover the secrets of preparing delicious vegetarian food.
This retreat will include:
· Hands-on vegetarian cooking classes
· Information on the nutritional and healing properties of herbs and spices
· Morning yoga classes
· Two delicious vegetarian banquets cooked by you
· All your meals from Friday dinner to Sunday lunch
· Discussions on nutrition, ayurveda, food, and yoga
· An introduction to bhakti yoga and kirtan
· Recipe ideas and notes
· 2 nights accommodation in twin-share rooms
· A visit to our organic vege patch to collect produce for our meals.
· Time for a stroll in the surrounding State forest.
The cost for the weekend retreat is $245 per person or $195 concession. To obtain more information or register please contact Keshava on 0405 577 453 or email keshava.tkg@pamho.net
Venue:
1265, Winchelsea – Deans Marsh Road,
Bambra
(12.5km from Winchelsea)