Yoga Of Life – International Cultural And Educational Festival
(VNN) Sri Srimad Bhaktivedanta Narayana Gosvami Maharaja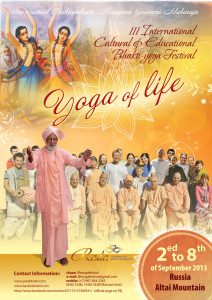 We Welcome You To Altai Festival!
International Cultural And Educational Festival
2 – 8 of September 2013
Mountain Altai (Russia)
Dear Devotees and Friends,
For the third time om visnupada Sri Srimad Bhaktivedanta Narayana Gosvami Maharaja personally invited all of us to attend annual International Cultural Educational Festival "Yoga of Life" in the mystical land of the Altai Mountains in Russia.
Srila Gurudeva's heart's desire and great pleasure is that during this Festival devotees from all over the world come together as a loving family and become immersed in sweet hari-katha, remembering the pastimes of Sri Sri Radha-Krsna and Sri Gaura-Nityananda Prabhu.
This year it will be the third international cultural and educational festival "Yoga of Life" to be conducted without the physical presence of Srila Gurudeva. We will share many remembrances of his glories and of the hari-katha that continuously emanates from his lotus mouth. Please, take this opportunity to be with us.
Guests of the Festival
At the instance of many Srila Gurudeva's disciples and followers, Srimad Bhaktivedanta Madhava Maharaja kindly accepted the proposal to preside over the Festival. Also at the Festival there will be:
Sripad BV Vana Maharaja
Sripad BV Padmanabha Maharaja
Sripad BV Nemi Maharaja
Sripad BV Suddhadvaiti Maharaja
Sripad BV Sadhu Maharaja
Sriman Vrajanath Prabhu
Srimati Vrindadevi Didi
Festival Organizers:
Krishna das – the general manager
Damayanti devi dasi – the manager of social and cultural activities
Amita Krishna das – the information-advertising support
Jaya Sri devi dasi and Dayanidhi das, Krishna Murari das, Amal Krishna das – the responsible for advertising
Kaviraj Krishna das – the responsible for meals
Kamala devi dasi – the responsible for the cultural program
Venu Gopal das and Indumukhi devi dasi – the responsible for the transport
… and others.
The place
The same as last year, the Festival will take place in Gorny Altai, not far from Gorno-Altaisk, in the tourist center 'Stik Travel' (http://www.stik-travel.ru), which is situated in a picturesque place near Lake Aya, in the birch forest, on the bank of the channel of the river Katun.
Accommodation
The system of placement and accommodation In tourist spa-zone "Stiktravel"is thoroughly thought over and takes into consideration needs and possibilities of every person. In the area of spa-zone there are
3 hotels
4 guest houses made out of cedar for 8 rooms each
5 comfortable bungalow
Well-furnished cottages in 6 room each
12 summer houses for 3 or 4 persons
Nourishment
Vegetarian meals will be organized on the Festival tree-times a day in accordance with vaishnava rules and standards. For those devotees that follow Chaturmasya rules there will be an opportunity to follow.
The Meals
At the festival 3-times a day vegetarian meals will be organized, according to the regulations and standards of vaisnava kitchen. For the devotees following chaturmasya there will be all conditions.
For breakfast you can take fruit salads, curds, delicious porridges and sandwiches, fruits and drinks.
For dinner you can have traditional Indian sabji, rice, sauces, and also soups, garnishes and salads, which are more habitual for Russians.
For supper there are macaroni, buckwheat and puree, fresh vegetables and salads, sauces and other tasty things.
Raw food eaters will be given all conditions for organizing the meals.