Vrindavan Municipal Board declares Vrindavan as 'Tirtha-Sthali'
by JAGANNATH PODDAR for Vrindavan Today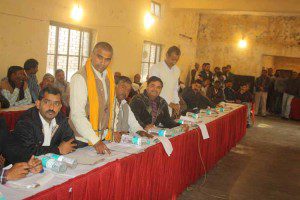 Vrindavan, 19th January, 2013: After much lobbying and sensitization by Friends of Vrindavan (FoV) and the Braj-Vrindavan Heritage Alliance (BVHA), the Vrindavan Municipal Board passes the resolution to get Vrindavan Municipal area to be notified as 'Tirtha-sthali' on 19th January. Smt. Brajbala Gaud, who is the councilor from the Ward 16 of the VMC raised the issue in the board meeting, which was unanimously passed by the councilors of all the parties.
Baba Sevak Sharan, one of the Founding Trustee of FoV; Baba Madan Bihari Das and Acharya Naresh Narayan from the BVHA met the Vrindavan Municipal Chairman Shri Mukesh Gautam to bring bill in the municipal board meeting to declare Vrindavan as a 'Tirtha Sthali'.
The board resolution will be sent to the state government for its approval, and once the government approves this specific board resolution the governor will issue the ordinance on this subject. Although, it is just the beginning, we shall keep on demanding with the various politicians to get Vrindavan declared as a pilgrimage town, said Shri Madan Bihari Das from the Tatiasthan, he added that we shall call a meeting of all the saints and mahants after the Kumbh Mela of Allahabad, and then we shall make the future strategy on it.
Acharya Naresh Narain said that we are not demanding something which involves money; we are just demanding a holy status for a place which is associated with the faith of hundreds of thousands of people around the world. It will stop the further cultural deterioration of this holy town. It should be noted that the illegal sale of meat, wine and other intoxicant has been in rise in Vrindavan municipal area in recent years.
Shri Madhumangal Shukla, the petitioner in the Allahabad High Court against the illegal cutting of the trees in Vrindavan and the construction of the half-circular bridge on Yamuna at Kesighat, said that the Mughals and the British Rules didn't allow hunting in Vraj area, one can see the orders of Akbar carved on the stone at the Kusum Sarovar and other places.