Vedic Dharma
June 10, 2013 (VNN) by Tattva Vicara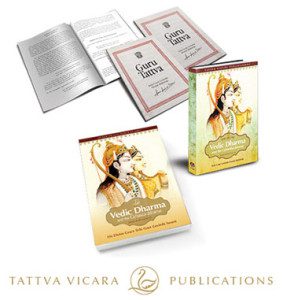 A Brief Overview
Due to popular demand we have just re-printed 1,000 copies of Vedic Dharma Vol. 1 soft-cover, and 200 copies Vedic Dharma Vol. 1 hard-cover. We have also re-printed 10,000 Guru Tattva booklets that will be distributed for free. This booklet, which was written by Srila Gour Govinda Swami, has been very popular all over the world in the Vaisnava community for obvious reasons.
If you would like to assist in the distribution of any of these publications, please contact us at: info@tvpbookscom.
At present we are working on the life story of His Divine Grace Sri Srimad Gour Govinda Swami, Krsna-lingita Vigraha. Vol. 1 has been re-edited and has 200 pages of additional information. Vol. 2 is in the preparatory stage, and Vol. 3 is almost finished. The three volumes will cover the time period form 1929 to 1990 of His Divine Grace's life. Anyone who would like to share any information or special encounters with His Divine Grace is invited to send his/her contribution to Tattva-vicara Publications at: info@tvpbooks.com.
We pray and hope that we can finish these three volumes as soon as possible and present them to the Vaisnava society for the pleasure of the Vaisnava's and His Divine Grace Srila Acarya Thakura Gour Govinda Swami.
When we took on the service of compiling information and writing the life story of His Divine Grace, His Divine Grace said, "…this book that you are going to write will give faith to the sadhakas…"
A few comments on volume one:
"I first heard about Srila Gour Govinda Maharaja through a friend who returned from India. He was talking non-stop about Maharaja. I couldn't understand a word of what he was saying. One day I was bored and I thought-alright, let's check him out. I listened to a lecture on Gaura Tattva first and was a bit dejected, as I didn't understand anything. I thought I'll still give it a try and listened to one/ two other lecture snippets. I was impressed but I just thought he was ok. Then I stumbled upon 'A real grihastha is a brahmacari'. This time I was completely bowled over. I was hanging onto every word of the lecture and who is there in the three worlds who has such firm faith in Krishna?? !! He is a pure devotee! He quoted from the Puranas, Goswami literatures, Vedas etc etc., which I have never heard. After that, listening to one lecture after another has been an 'out of the world' experience. Each time some new deep philosophy.
After months of listening to his mind-blowing lectures, I wanted to know more about Maharaj's life – background and everything. After asking many people and searching the internet extensively, I suddenly found an online version of the book Krsnalingita vigraha. This was exactly what I was searching for! Maharaj's life story. I started the ebook in the evening and finished it about 5 am next morning. My eyes were so sore in the end!
I just couldn't stop reading. It was like I was almost stumbling over the words to see what's next ! I was very, very moved by it. I deeply thank Nimai Pandit Prabhu and team who have produced such a masterpiece. Truly, a Vaishnava takes birth in this world of his own accord and simply by reading about Maharaja, I can feel a spirit of renunciation and increase in devotion to Krishna."
Your servant,
Priya
"In this Krsna-lingita-vigraha, the life and precepts of Sri Srimad Gour Govinda Swami have been presented in a unique, vibrant style. Having been the secretary of His Holiness for a few years, the author had a special opportunity to observe closely his wonderful Vaisnava qualities and behaviour. He is displaying his strong guru-nistha, the backbone of bhakti, by sharing his insights in a fervent way, enriched by the statements of various witnesses of the amazing life of Sri Srimad Gour Govinda Swami. This makes for a very enlivening reading, taking us straight into the life of a contemporary Vaisnava saint. The reader will be surprised to learn that such a powerful devotee walked amongst us. I found great inspiration in diving into this detailed account of the life and teachings of my revered siksa-guru in this first volume of his biography, and I'm eagerly waiting for the next volume. I couldn't put it down and practically read it from cover to cover with great emotion.
Indeed, as stated by Srila Prabhupada, "It is the duty of a disciple to glorify his spiritual master." And Srila Bhaktivinode Thakura writes in Sajjan Tosani (7/4), "A devotee should faithfully glorify the transcendental qualities of his guru for one hour everyday." Nimai Pandita Prabhu has captured the powerful spirit animating his spiritual master and rendered it in a very moving way, with devotional fervour, matching the intensity of the character of Sri Srimad Gour Govinda Swami.
I am an avid reader and eagerly wait for any new titles published by the enthusiastic and dedicated Tattva-vicara team."
With affection,
ys
Bv Suddhadvaiti
"…I bought the book and began reading it, it took me all night I could not put it down…"
Lila Manjari devi dasa
"…I read the life story of Gour Govinda Maharaja, I was very impressed with his life, a very humble personality, you would expect someone of this calibre to be around two thousand years ago, not just a few years ago…"
Serena Ablett.
Jamie Ablett, a professional editor who helped on the original Life Story Vol.1, said that he did not really give the Hare Krsna movement much thought and did not think that we had a very deep understanding in the arena of spiritual life. However, after proofreading Vol. 1 of the Life Story of His Divine Grace he said, "After reading your spiritual master's life I can understand that Krsna consciousness is very deep."
On the 24th of May 2013 was Nrsimha–caturdasi. We printed at the local printer in Murwillumbah a lecture by His Divine Grace Sri Srimad Gour Govinda Swami, which he originally delivered on the 14th May 1995. The booklet was distributed for free to the many devotees living in this area, who were very eager and happy to receive our beloved Gurudeva's divine instructions.
This booklet can also be read on the Tattva Vicara Publications website: http://tvpbooks.com/2013/05/the-appearance-day-of-lord-nrsimhadeva/