The Book of Dharma Now Available on Kindle
April 01, 2013 (VNN)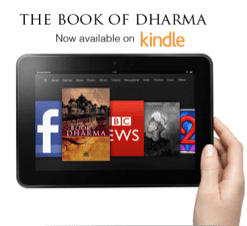 A "personal development" book in the Bhakti tradition
The Book of Dharma discloses the elusive Dharma Code, an ancient system for making enlightened choices and fulfilling our highest potential. Formerly intended for kings and queens—and guarded by them—this knowledge was deliberately concealed, and passed down in secrecy in a sacred tradition for millennia.
Reader feedback:
"A soulful page-turner. As soon as I started reading The Book of Dharma, I felt as if my soul was being fed. I couldn't put it down."
"Simple and enlightening life coaching. This book is a labour of love and reads swiftly and elegantly. The idea of simply addressing four of the yamas and niyamas: ahimsa (non-violence), satya (truth), saucha (purity) and tapas (discipline) as a guide to life, is in itself ingenious and alluring."
"Four ancient principles for navigating life. Beautifully designed and laid out, thoroughly researched, this is a book that deserves to be read."
"Explains the profound and little-known teachings behind yoga. If you are interested in yoga, then this book is definitely for you."
"Profound teachings made very accessible. The Book of Dharma provides a time-tested set of tools for conscious living."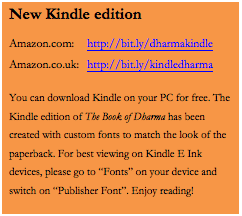 Amazon.com: http://bit.ly/dharmakindle
Amazon.co.uk: http://bit.ly/kindledharma
You can get a free 50-page preview of the book at www.BookofDharma.com.
If you would like to place a WHOLESALE ORDER at very low prices, please contact Veda Wisdom Books. More than half the first print run has sold already, so please hurry.