Sri Gopala Bhatta Gosvami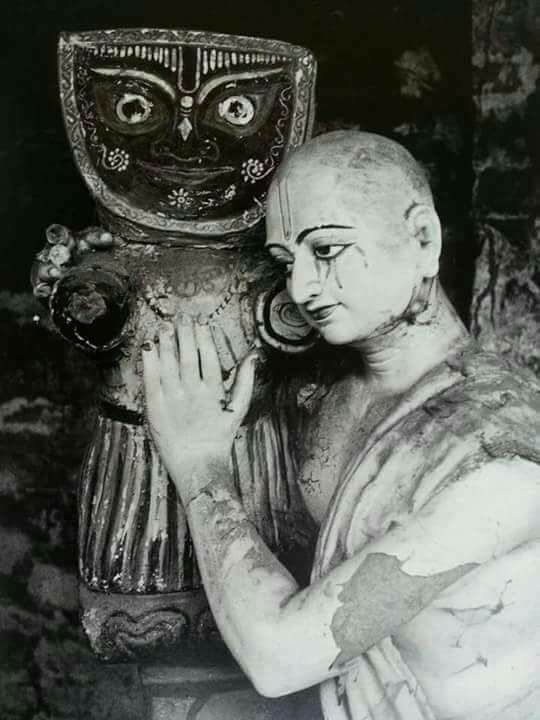 Sucaka Kirtana, by Manohara Dasa
sri gopala-bhatta prabhu, tuya sri carana kabhu,
dekhibo ki nayana bhariya.(1)
(1) Whenever I see the beautiful lotus feet of Sri Gopala Bhatta Prabhu, my
eyes flood with tears.
suniya asima guna, panjare vindhila ghuna,
nichani niya yaire mariya (2)
(2) One becomes free from the cycle of birth and death by hearing about your
unlimited qualities.
pirite gadala tanu, dasabana hema janu,
candramukhe aruna adhara (3)
(3) Being attracted by your moonlike face and lips radiant like the rising sun,
I can't be pierced by Cupid's ten golden arrows.
jhalake dasana-kanti, jini mukutara panti
hasi kahe amrta-madhura.(4)
(4) Your beautiful teeth resemble a string of pearls. Your joyful words are
saturated with sweet nectar.
paranera prana yara, rupa sanatana ara,
raghunatha-yugala jivana(5)
pandita krsna lokanatha, jana deha-bheda matra
saravasva sri-radha-ramana (6)
(5,6) The devotees Sri Rupa and Sri Sanatana Gosvamis, Raghunatha Dasa,
Raghunatha Bhatta, Raghava Pandita, Krsna Dasa Kaviraja, Lokanatha Gosvami are
your life. And your soul is Radha-Ramanaji.
premete vithara anga, caitanya-carana bhanga,
sri-nivase dayara adhina(7)
(7) With your body full of love you offer obeisances to Lord Caitanya, and like
a honeybee you are attached to His lotus feet. You kindly gave shelter to
Srinivasa Acarya.
sabhe meli rasasvada, bhava-bhare unmada,
ei vyavasaya ciradina (8)
(8) Your only engagement is associating with pure devotees, relishing rasa, and
tasting the divine madness of gopi-bhava.
lilasudha-sura-dhuni, rasika-mukuta-mani
rasavese gada gada hiya (9)
(9) The pastimes of Radha-Ramana flow through your mind like the celestial
Ganges. You are the crest jewel of rasika Vaisnavas. Relishing prema-rasa, you
become overwhelmed with ecstatic emotions.
aho aho ragasindhu, aho dina-jana bandhu,
yasa gaya jagata bhariya (10).
(10) Oh, ocean of spontaneous love for Radha-Ramana. You are the friend of the
fallen. Your fame is sung throughout the universe.
ha ha murti su-madhura, ha ha karunara pura,
ha ha cintamani guna-khani (11).
(11) Oh, your form is most sweet and full of mercy. And your unlimited
qualities act like a touchstone.
ha ha prabhu ekabara, dekhao madhuri-sara,
sri-carana-kamala Iavani.(12)
(12) Just once, Oh master, let me see your lotus feet, the essence of all
sweetness.
aneka janmera pare, asesa bhagyera tare,
tuya parikara pada payan.(13)
(13) After many many births, I have attained the rare fortune of serving the
servants of your eternal associates.
nija karamera dose, majinu visaya rase,
janama gonainu kholi khayan (14)
(14) Because of bad karma I have wasted my life enjoying sense-gratification.
aparadha pare mane, tathapi tomara gune,
patita-pavana asabandha (15)
(15) I am full of offenses. But my only hope is that you, being full of
merciful qualities, will deliver this fallen soul.
Iobhete cancalamati upekhile nahi gati,
pukaraye manohara manda. (16)
(16) Although my mind is fickle and I'm greedy and sinful, still this Manohara
Dasa calls out to you. Please don't neglect me.