Six Famous Followers of Hare Krishna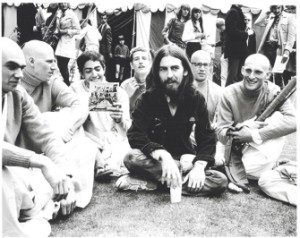 (VNN) By Enrique Lopetegui via Sacurrent
George Harrison: The former Beatle was a great friend of the Hare Krishnas. He paid for the publication of the first edition of the Krishna book (for which he also wrote the introduction), bought the Bhaktivedanta Manor to be used as a temple near London, recorded with the Hare Krishnas ("My Sweet Lord" and the Radha Krishna Temple album both reached number one), and died in the company of Ravi Shankar and two Hare Krishna devotees, in front of pictures of Krishna and Rama.
Russell Brand: The Sun's "Shagger of the Year" winner in 2006-08 married singer Katy Perry in India in a Hare Krishna ceremony, after befriending prominent Radhanath Swami. "He's a beautiful fellow," Brand told London's The Times. "He's got the answer. I'm a spiritual gent and increasingly that's the level I want to vibrate on, were it not for my crazed lust for sex and glamour." In spite of the Swami's blessings, the marriage to Perry only lasted 14 months.
Steve Jobs: During his famous Stanford commencement speech in 2005, the late founder of Apple remembered how he survived in the early days. "I didn't have a dorm room, so I slept on the floor in friends' rooms. I returned Coke bottles for the 5-cent deposits to buy food with. And I would walk the seven miles across town every Sunday night to get one good meal a week at the Hare Krishna temple. I loved it."
Allen Ginsberg: The author of Howl brought the chanting of Hare Krishna to the U.S. even before Hare Krishna founder A.C. Bhaktivedanta Swami Prabhupada came to the West in 1965. "Usually all the gurus lived on the rich part [of New York] and were sponsored by the rich, but [Prabhupada] moved to the Lower East Side … where the hippies, acid-heads, freaks, amphetamine-heads, and the meth monsters were," said Ginsberg. "It was a stroke of brilliant social judgment on his part."
Poly Styrene (Maharani Dasi): The singer for X-Ray Spex became initiated and lived at the London temple in 1983-88.
Don Foose: The leader of Cleveland's The Spudmonsters and Foose is a hardcore, straightedge punk rocker and devout Hare Krishna. Other famous "Krishnacore" bands were Shelter, Cro-Mags, and 108.