Now, Rock Away with 'Hare Krishna' Mantra
Ahmedabad, India – March 18, 2013 (VNN) via Daily Bhaskar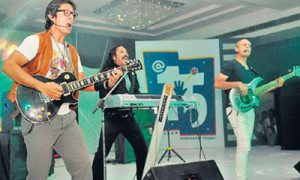 If you thought rock music and spirituality did not gel, think again. The atmosphere was filled with ecstasy when hundreds of Krishna devotees thronged the Hare Krishna Movement (HKM) temple in Ahmedabad for 'Krishna rock band' on Sunday. Interestingly, this rock band was different as devotees were seen dancing and performing in traditional attire!
Krishna bhajans sung in rock genre enthralled the youth present at the temple premises. The band was part of the 'Vedic Science Fest 2013'- a mega cultural and spiritual event organised by the temple. This is the first time that HKM temple situated near Science City, organised such an event for youth.
Elaborating on the event, president of HKM, Ahmedabad, Jagan Mohan Krishna Dasa said, "Chants of Hare Krishna and songs on Krishna were sung by students of the Vedic Club and although the music was western, the tune and lyrics were of the lord's bhajans." He also said that the rock band was organised to engage all the senses with music for Lord Krishna's bhakti.
"Since today's youth does not believe in religion or spirituality blindly, Krishna rock band is a way to logically present the concepts of Krishna to them," added Krishna Dasa.
Apart from the band, the one-day-fest witnessed various interesting and educational activities like Vedic science quiz, dramas, games and contests, 'Voice your Vedic thoughts' and many more. As a part of the fest, a Vedic test was also held where students/ members of the club took an oral test on the Vedas. The fest was held as an innovative means to involve youth in HKM.