Muslims Torch and Loot 200 Hindu Homes in West Bengal
West Bengal, March 19, 2013 – by Sandhya Jain (Niti Central)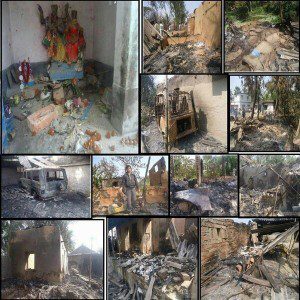 Amidst a near-complete media blackout and distressing silence from statutory bodies like the National Human Rights Commission, a serious communal flare up has taken place in South 24 Parganas district of West Bengal, with more than 200 Hindu homes torched and looted in four villages — Naliakhali, Herobhanga, Gopalpur and Goladogra, in the Canning police station area, from the wee hours of February 19. Almost two dozen Hindu shops were fully damaged and looted in Joynagar police station area; many shopkeepers have fled and members of the besieged community have begun to send their womenfolk away.
Although triggered by a purely local incident, the looming Panchayat elections in the State seem to have given vested interests an opportunity for a show of strength. Competitive communalism is in the air, with the two major political formations fighting to capture the huge Muslim vote in the State.
By all accounts, the trouble began late in the night of February 18-19 when Maulvi Rohul Kuddus (resident of Ghutiyari Shariff, South 24 Parganas) and Abdul Wahab (resident of village Moujpur, Joynagar) were returning from Jaamtala Haat in Kultali after attending a religious congregation. Maulvi Kuddus was driving a motorcycle when the duo was attacked by unidentified culprits on the Naliakhali main road. Maulvi Rohul Kuddus was shot dead and his aide Abdul Wahab, injured.
The motive for the murder is unclear. Reports in a prominent newspaper however, claim that the Maulvi was carrying Rs 11.5 lakhs, which was taken away by the assailants. Other sources say that huge unaccounted funds are circulating in the region and are being used to buy unlicensed firearms and ammunition, under the patronage of political parties.
As rumours spread, large numbers of Muslims began to descend upon the area in trucks. The headmaster of a local school reportedly incited the mob, and soon Hindu homes began to be attacked from the early hours of February 19. The violence quickly escalated with the police and administration initially at a loss. According to local reports, police officers Anup Samaddar and Anup Ghoash of the Canning police station were seriously injured and two police vehicles torched in the turmoil. The unrest has spread to Sandeshkhali area of North 24 Parganas.
Hindu Samhati leader Tapan Ghosh, who is monitoring the situation with volunteers, told a local television channel that after the Maulvi's body was found, Naliakhali village, which was closest to the site of the crime, was attacked and looted, the village temple damaged, and five women molested. As the police party was initially outnumbered, the mob torched homes with impunity, pouring petrol and setting them ablaze in a three hour rampage. Naliakhali villagers claimed they had no knowledge about the murder and the reasons for the attack on them until the police arrived.
Neighbouring villages were also attacked, Hindus beaten and their shops destroyed. The mob set up roadblocks at several places such as Natunhat, Priyor More (Joynagar ps), Bhangankhali, Hospital More (Basanti ps).