Massive Protest to Save Yamuna Continues
Mathura, March 20, 2013 (VNN)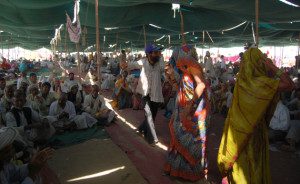 Five year old Krishnaroop has travelled from his Gurukul in Mathura to Delhi barefoot for the first time. He along with his schoolmates are the youngest participants of the Yamuna Raksha Dal which has marched to Delhi campaigning to save the holy river, Yamuna.
The Yamuna is the largest tributary of the Ganga which is considered the holiest river of India. A drop from Yamuna, named after the sister of Death God Yama, is believed to wash away a person's sin. Tens of thousands of villagers from Vrindavan, Mathura and neighbouring villages have marched to Delhi protesting to save the Yamuna river. Residents of these lower riparian states where the river almost runs dry are demanding that water be released from the barrage instead of the industrial effluents of Delhi.
Hari Shankar Das, a priest of Jhaka Bihari Mandir in Mathura feels that it is the responsibility of the people of Braj (Vrindavan and Mathura)who worship the river to protect it. Das has lit a lamp on his hand for the past 13 days as a silent protest over the government apathy to the protests.
The protesters embarked on a 150 km journey on 1 March from Mathura reaching Delhi via Faridabad in 11 days.
Yamuna Rakshal Dal (Save Yamuna Group) is leading the march. The group large contingent of farmers and agricultural laborers and followers of Man Mandir, a religious organization based in Barsana, near Vrindavan.
Opposition political parties like Delhi BJP President have expressed solidarity with the cause. Critiquing it, President Jai Kishan Das of Yamuna Raksha Dal says, " the opposition should have started this movement long ago. The issue of water scarcity does not affect one individual but the whole society."
Of the two key demands one- cleaning of 22 km stretch of Yamuna in Delhi between Wazirabad Barrage and Okhla Barrage- has been met. The protesters are scheduled to meet the Union Water Resources Minister in the evening for negotiating the release of water from the barrage.