Krishna Consciousness and our Paris sojourn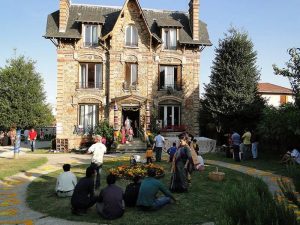 by SURESH SUBRAHMANYAN
My wife and I embarked on our first foreign holiday in 1980, when we waltzed across some of the most beautiful spots in the world. London, Rome, Florence, Venice, Geneva, Salzburg, Athens and last but not the least, Paris. I saved the best for last. Paris, the very name spells romance, history, beauty, Maurice Chevalier, Oo la la, the Eiffel Tower, Champs Elysses, Toulouse Lautrec, Moulin Rouge, Roland Garros and much, much more. While each of these cities held their own ineffable charm, reeking of history, Shakespeare and Dickens, Paris whetted our appetite like none other. That said, our landing for the first time in the City of Lights, was not exactly the stuff of dreams.
At this point I need to retrace my steps a couple of years prior to that memorable holiday. We are talking about the late '70s and early '80s, when travelling abroad on a holiday was a rarity, foreign exchange was as scarce as hen's teeth, and you had to literally count the pennies. Thanks to the fortuitous happenstance that my wife was being sent to Switzerland on a training assignment, the rest of the holiday was financially manageable, but parsimony took centre stage. Just then a friend of ours exhorted us to become life members of the International Society for Krishna Consciousness (ISKCON). Not because he had suddenly got religion and was looking for inductees but, as he explained, ISKON had bases all over the world, and life members could park themselves free of charge, meals included, and no questions asked. At `2,222/- per couple, it was manna from heaven. Or so we thought.
We went ahead, paid the cash, and I still have my membership card somewhere to prove my theological credentials. Now I must make it clear that becoming a life member of ISKCON was purely a canny insurance cover, just in case we were left stranded somewhere without reasonable accommodation. It was the holiday season in Europe, and cheap digs were going at a premium. What's more, the membership was for life, so I just felt we were that much ahead of the game. We did not really anticipate that we would be making use of the facility.
Our travels in Europe, from country to beautiful country went, for the most part without incident. If there is anything more wondrous and breathtaking than Salzburg and its Alpine surrounds, I haven't seen it. All the other cities I mentioned earlier had their own charm and places of interest we were so familiar with, thanks to literature's bounty, none more so than London. Everything was tickety-boo, in Danny Kaye's words. So we arrived in Paris with a song in our hearts and a heart for any fate. Unfortunately, Paris was one city where we could not obtain advance hotel accommodation, but were assured by our travel agent that getting rooms would be a walk in the park. The bus from Charles de Gaulle Airport ferried us to the Invalides terminus in the centre of Paris, where we weary passengers tumbled out. A tourist information centre was attached to the terminus, and all we had to do was explain our requirements and collect our hotel vouchers. Easy as pie.
We were welcomed by a big placard that shrilly said No Accommodation Available in Paris. In seven languages and English was not one of them. They hated the English, the French. Things have changed now, mercifully. When we tried to engage one of the officials behind the counter in conversation, he merely gave a sad sack Gaelic shrug of the shoulders, as if to say, 'Sorry, no can do.' Except he said it in French with a sneer, and for all I knew, he might have said, 'We can't be bothered with you third world types, looking for curry joints.' The French I studied in college did not prepare me for this. Singing Frere Jacques, ding, ding dong to him would have made no difference. That was the only verse I could instantly recall, partially at that.
We took the shock on the chin and I fished out the ISKCON card, glanced at my wife, who nodded back in helpless assent. Fortunately, we obtained lockers at the terminus, shoved our luggage in, and off we went in search of the Parisian abode of Lord Krishna. We thought we would check the place out first before committing ourselves to parking our weary souls there. A wise call, as it turned out.
We found ISKCON in a suburb of Paris, and were warmly welcomed by a couple of Occidental, saffron robed devotees holding a string of beads and chanting 'Hare Krishna.' I wondered if one of them was Beatle George Harrison. We were taken into the modest sanctum of the chief of the establishment, one Kishen Maharaj, who could only speak Hindi with a pronounced Bhojpuri accent. He sat on a string cot, while his wife sat on the floor, flattening dough with a rolling pin.
We could have been in Varanasi. Maharaj was overjoyed to receive this young Indian couple, said we were welcome to stay indefinitely at no cost. The house rules? Men and women to sleep in separate dormitories, we had to rise at 6 am and be ready for morning prayers and light breakfast at 7 am, meditation from 11 am to 1 pm, thence lunch. The afternoon and early evening was free for us to explore Paris, so long as we reported back by 7 pm for sangeet, prasad and early bhoj. Lights out by 9.30 pm. Shades of my boarding school days!
We thanked Maharaj Ji profusely, took leave, ostensibly to collect our bags from the terminus. We ran out as fast as our legs would carry us, and swore never to return. Luckily we got rooms at a cheap motel due to a last minute cancellation, and that was the last we saw of ISCKON Paris. O ye of little faith! Hare Krishna!