ISKCON Seshadripuram Bangalore Report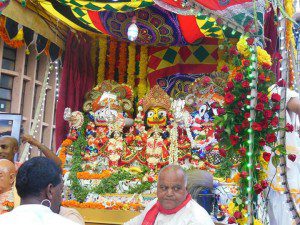 August 17, 2013 (VNN) by ISKCON Sri Jagannath Mandir Webteam
On 23rd July, ISKCON Seshadripuram held the Snana Yatra of Lord Jagannath, Baladeva and Devi Subhadra combined with the Panihati Festival of Sri Sri Nitai Caitanya at Dodda Gosai Ghat in Srirangapatnam on the banks of Cauvery River where more than 1200 devotees gathered for the festival.
The Deities were in seclusion and In between from 24th to 31st June, during which we had organized the Srimad Bhagavat Katha Week in Hindi and more than 700-800 visitors gathered every day to hear from His Grace Sarvabhauma Prabhu.
We intended to further engage the attendees of these festivals in our temple activities, so we decided to hold the Jagannath Rath Yatra on 13th July 2013.
Sri Jagannath Baladeva and Devi Subhadra appeared in their Nava Yauvana form and in a beautiful new Dress. More than 15,000 devotees had pulled the rath, chanted, danced and honored Jagannath prasadam enroute.
The few days before the ratha yatra had severe Storms, even Just Before The rath had started, It had rained very heavily, But the lord had made sure that nothing would obstruct devotees from celebrating this festival and the rains had subsided just on time!
The entire route was blocked and the Bangalore traffic police had a tough time pushing the gathering to move faster. All along the route there was enthusiasm and loud chanting of the holy name and even our Temple President Anukul Keshav prabhu & His Grace Syamasundar Prabhu (ACBSP) had walked the entire yatra.
HG Haripad prabhu (ACBSP) sang the kirtans along the yatra which had enthralled everyone. His Grace Revati Raman Prabhu (President, ISKCON Tirupati) also sang and distributed prasadam from the rath along with His Grace Sarvabhauma prabhu.
The rath yatra ended at 8:30 PM at the temple. More than 2000 devotees honored prasadam.
Link for HG Revati Ramana Prabhu's Comments
Links For a Few Glimpses of The Ratha
Photo Galleries:
Donate a Square foot for our new Temple
Your Servants
ISKCON Sri Jagannath Mandir Webteam