ISKCON-NY holds 46th Annual Festival of Chariots and Jagannatha Parade on 5th Avenue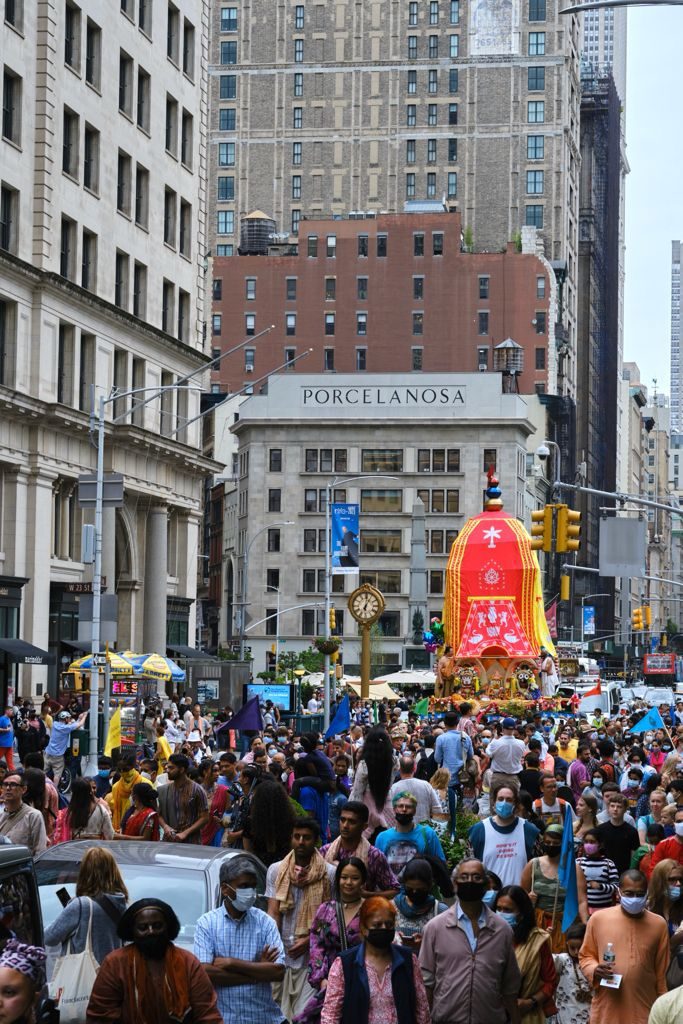 from News India
The Tristate Hare Krishna community of New York, New Jersey and Connecticut ended its three-day Annual Festival of Chariots and Jagannatha Parade down Manhattan's Fifth Avenue June 13, 2021. This was the 46th Annual Festival of chariots organized by the International Society for Krishna Consciousness (ISKCON).
A 40-foot-high representation of Lord Jagannatha, colorfully-decorated Rathayatra carts hand-pulled by devotees and surrounded by thousands of chanting and dancing devotees went down the street.
In a press release, organizers said it was "almost (like) floating in fresh air experiencing the pleasure of life once more after a most uncertain year."
Organizers estimated around seven thousand people attended the event inaugurated by well-known architect Abhay Wadhwa, assisted by Pandit Nikhil Trivedi.
Special efforts were made to ensure that all attendees were following current New York City Covid-19 safety guidelines to keep everyone safe, the press release said.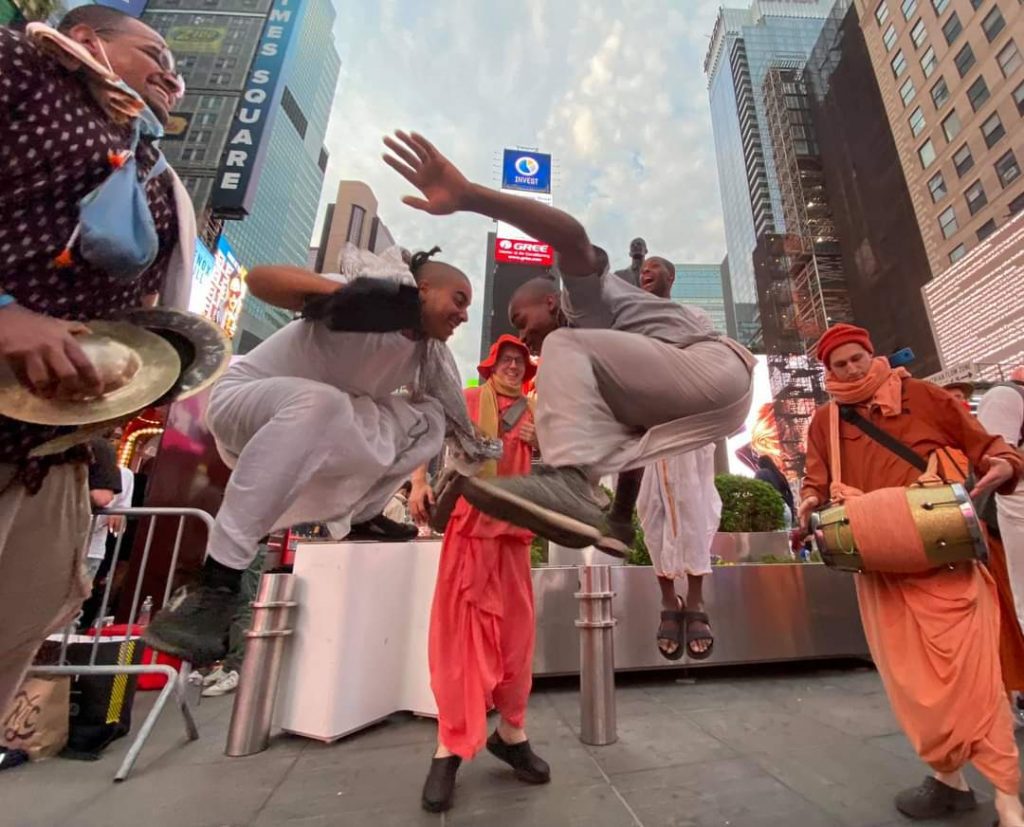 The Ratha Yatra began at noon June 13, at West 45th Street and 5th Avenue, and ended at Washington Square Park where it joined the "Festival of India" for an afternoon of free vegetarian food, stage performances of Indian classical dances, Krishna conscious dramas performed by a theater troupe and multiple booths about reincarnation, meditation, yoga etc.
Founder of ISKCON Bhaktivedanta Swami Srila Prabhupada first came to New York City from India in September 1965 to spread the teachings of Lord Krishna to the western world to fulfill his spiritual master's order to spread Vaishnava teachings to the English speaking world. Prabhupada arrived in America with just $7 and a trunk of his translations and commentaries on ancient Sanskrit texts, the Bhagavata Purana, ISKCON said in its press release.
On July 13, 1966 he incorporated his fledgling community as the International Society for Krishna Consciousness.
Over the past 50 years ISKCON has grown to a global community of more than 700 large temples, over 150 vegetarian restaurants, and 110 farms and eco villages. The affiliated Bhaktivedanta Book Trust has sold 556 million books and magazines on Krishna consciousness, and Hare Krishna Food Relief programs feed a free vegetarian lunch to 1.2 million school children each day in India through its mid-day meals program in affiliation with the Indian government, the press release said.