ISKCON Argentina Reaches A Mainstream Audience
April 15, 2013 (VNN) – By Madhava Smullen via ISKCON News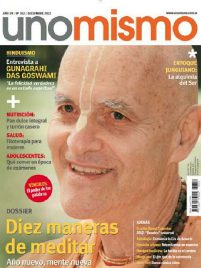 After many years of hard work and struggle, devotees in Buenos Aires, the capital city of Argentina, are seeing their efforts pay off as Krishna consciousness reaches a mainstream audience.
Just one example of this is the December issue of the very popular New Age/religious magazine Uno Mismo. Featured on its cover, in saffron robes and bright Vaishnava tilak, is spiritual leader Gunagrahi Das Goswami, who came to assist ISKCON Argentina in 1996.
Roughly translated from the Spanish, the tag line reads: "An interview with Gunagrahi Das Goswami – 'True happiness is a spiritual state of being.'"
Starting on page eight of the magazine is the five page interview, which was originally spoken when Gunagrahi appeared as a guest on the radio show Liliana en Del Plata, during the lead-up to Christmas 2011.
Deeply inspired by the interview, Maria Laura Ferro, the editor of Uno Mismo (which means "one self"), transcribed it in its entirety and published it in the Christmas 2012 issue of her magazine.
In the interview, Gunagrahi Goswami explains how God is one and simply has different names in different languages. He says that Krishna devotees in Argentina also worship Jesus Christ as a great representative of God, and even have a special program at their temple honoring him during Christmas time.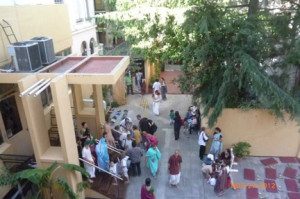 The temple courtyard of the 24,700 square foot ISKCON property in Buenos Aires
"I talked about how Christmas nowadays doesn't pay proper tribute to Jesus, but is instead just an excuse for more sense gratification, rather than more prayer," Gunagrahi Goswami says. "I said that we were advocating that people try to remember a little bit about what Jesus stood for, and derive their satisfaction in a more spiritual way during Christmas."
The magazine flew off newsstands throughout Christmas time, and Gunagrahi Goswami was regularly recognized in public. Meanwhile devotees laminated the magazine's cover and used it as a preaching tool during the Christmas book distribution marathon. People, hearing that Srila Prabhupada's books contained the philosophy expressed by the famous spiritual leader on the cover of Uno Mismo, snapped up the books enthusiastically.
Gunagrahi Goswami expects the magazine interview to be a stepping stone for more publicity, including TV appearances, next time he visits Argentina.
Of course, it's just one sign of ISKCON's newfound popularity in the country, after years of struggle.