Indian Oil Corporation donates Garbage Bins for Cleaning Vrindavan
April 30, 2013 (VNN) by JAGANNATH PODDAR via Vrindavan Today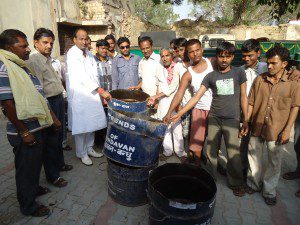 The  Chairman of the Vrindavan Municipal Council Shri Mukesh Gautam distributed the garbage bins to the vendors and shops which generates garbage. One hundred garbage bins were distributed jointly by the Vrindavan Municipality and Friends of Vrindavan. The garbage bins were donated by the Mathura Refinery of the Indian Oil Corporation to Friends of Vrindavan with a purpose to get them distributed in this temple town.
Addressing the vendors Shri Gautam exhorted that the traders should take responsibility to keep Vrindavan clean. Municipality can't keep the town clean without the public support. He said that the effort of Friends of Vrindavan is definitely helping Vrindavan. He admired the Mathura Refinery's decision to donate the garbage bins, which will boost the initiatives of Friends of Vrindavan to keep the town clean.
Jagannath Poddar from Friends of Vrindavan said that more garbage bins will be distributed in the town in coming days. He said that the U.P. Pollution Control Board has been approached to leverage more garbage bins from the chemical industries. Most of the municipal ward members were present during this occasion.