From a Disused WWII Airstrip to a Prasadam Distribution Day Trip
India, April 14, 2013 (VNN) by Praghosa Dasa via dandavats.com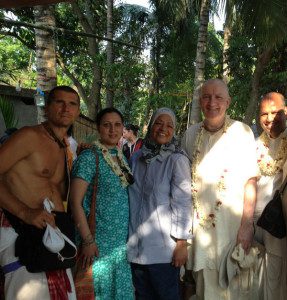 Many services we are fortunate to engage in are more or less what you might consider universal to most vaisnavas. Attending the morning program, chanting our rounds, honouring prasadam, going out on sankirtana, cooking for the Deities and the devotees, reading, writing, cleaning, growing flowers and vegetables, sewing, looking after the cows, teaching, administration etc., etc, etc.,
Of course devotional service is unlimited both in duration and variety, so there can always be times where we might find ourselves doing something a little different for Krishna.
The other night was one such occasion for me and it involved an unused airstrip, a dog called Tommy, a Tirumul Congress MP an extremely low set A/C unit and a sad story.
About 15 minutes drive from our world headquarters at Mayapur, West Bengal is an unused airstrip that was built by the British during or before World War II. The first interesting thing about this airstrip that hasn't been used in decades is that is it more or less in perfect working order. As the saying goes – it was built to last. One devotee at Mayapur, Gopijanavallabha prabhu has been considering for a long time to try to get this airstrip in use again. His idea is that when the new temple is open, which will hopefully be in 2016, the option might be there for all who would want it, to fly from Kolkata to this airstrip (30 minutes) and then drive the 15 minutes to Mayapur. For all of you who have braved the road journey from Kolkata to Mayapur, you will know that such an alternative would be like comparing sweet rice to dry bread. Or maybe a better comparison would be a peaceful nights sleep to a harem scarem roller coaster ride!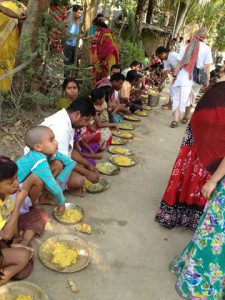 So myself, Gopi and couple of other devotees went to look at the airstrip recently and also arranged a meeting with the MLA for the area, a close associate of Mamata Bannerjee, Ujwal Biswas.
Originally we were to meet Mr Biswas at his home in the late afternoon but the function he was attending that afternoon substantially overran. In addition to that on his way home from that function he learned that some very disturbed person had decided to use their vehicle as a weapon and was ploughing into people at random. Over 15 people were injured, some of them seriously and Mr Biswas being a good constituency politician went to visit the injured in hospital. The upshot of this was that he didn't arrive for our meeting until after 10.30pm!
In the meantime we were being entertained by his pedigree snowy white spaniel dog called of all things – Tommy, which was to say the least a little different from what we were used to.
Anyway we had a good discussion with Mr Biswas who was a very friendly and engaging man. At every opportunity he was reassuring us (and maybe himself also) of all the good work he has done and intends to do and how he only entered politics to help others. He assured us that he will do all he can to help us but cannot give any guarantees at this point 🙂 All of these discussions took place with an A/C that was blowing out the coldest air I've ever known, which all added to how surreal the situation was, sweltering outside while dreaming of a wooly jumper inside.
As the meeting was breaking up I referred to a picture on the wall of a twenty something man, Mr. Biswas explained that it was his son who committed suicide in the not too distant past. Their dog Tommy only arriving after that as a comfort for his wife. Yet another reminder of how this material world is a place of suffering and it strikes time and time and time again, no matter who we are, where we are or our vocation in life. A brahma bhuvanal loka…
Yes it was an interesting day in the service of the Lord and an even more quirky evening. Still if it results in chartered flights from Kolkata to Mayapur in the years to come, it will have been well worth it.
A couple of days later we were joined by Dr. Foz a TV celeb from Kuwait, by all means the 'Oprah Winfrey' of the Middle East! Her main reason for coming was to going on some prasadam distribution programs in the surrounding Mayapur villages. She is inspired to raise funds back home to really escalate our prasadam distribution effort in and around Mayapur. So we all set off in the midday sun to link up with Mahasringha prabhu, a veteran distributor of Krsna mercy in the villages around Mayapur.
Our friend Dr. Foz, as you can tell from the pictures was in her element and she has further committed herself to this project longtime. Who would have thought that a native Kuwaiti lady with TV fame would help to fulfill Srila Prabhupada's request that everyone within a ten mile radius of Sri Sri Radha Madhava would not go hungry. We are also working with her on some other ideas as to how ISKCON Mayapur can expand its activities and better its relations with the local population, now that the new temple is all but a reality.
Sridham Mayapur ki jai!