Documentary about Yamuna River Will Shock and Move
India – May 07, 2013 (VNN) By Madhava Smullen via ISKCON News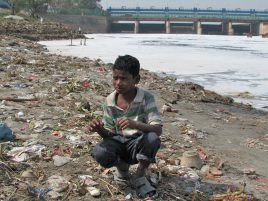 (Photos by Gandharvika Prema Dasi)
A forthcoming documentary that highlights the plight of the Yamuna river, through the lives of children interconnected with it, is sure to both shock viewers and move them deeply.
Writer, director and producer Krishna-lila Dasi (Krisztina Danka) began the project last spring when ISKCON's Governing Body Comission resolved to officially support the Save the Yamuna Campaign coordinated by Maan Mandir of Varshana, and asked her to create a short video to raise awareness.
The resulting six-minute film,Yamuna: The Stolen River, was selected by the environmental online film festival Green Unplugged, and will be shown on its website www.cultureunplugged.com next month.
But Krishna-lila felt that the topic was so grave and important that it warranted a feature-length documentary.
Pairing the project with a film she had been commissioned to shoot for the Temple of the Vedic Planetarium in Mayapur, West Bengal, she didn't have to worry about traveling to India or amassing a film crew.
23% of the children living in the Yamuna area are poisoned
But apart from other expenses, she had to finance the shooting on location in the sacred towns of Vrindavana, Varshana, as well as in Delhi and Haryana herself.
"I had to sit down with my husband and have a serious discussion about whether we could afford it or not, especially having a little daughter to take care of" she says. "My husband was very supportive. He said, 'Even if we lose this money, we're going to lose it for a noble cause.'"
The over an hour-long documentary, shot over two weeks in February and March this year, explains how 97% of the sacred Yamuna is held back by an irrigation dam in the state of Haryana, and the rest is completely replaced with sewage and industrial waste in Delhi.
Infant mortality is especially high near the river. At 9 months old, Devaki was dying of typhoid when Rupa Raghunath and the Food for Life team of Vrindavan found her and saved her
But mostly it tells the heart-wrenching story of the children affected by this environmental disaster, which has been essentially ignored for the past thirty years.