Blazing Sadhus
April 21, 2013 (VNN) – By Achyutananda Dasa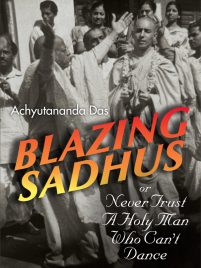 Ever since W. Somerset Maugham's The Razor's Edge, many books and films have appeared with a similar theme: Screwed-up Westerner goes to the East, turns native, gets enlightenment—with most of the emphasis on the screw-up and not much on the enlightenment. Achyutananda Dasa's purpose in this autobiographical book is to describe more of the knowledge and wisdom a disciple in the tradition of Krishna consciousness receives.
Beginning with the earliest days of the Hare Krishna movement in New York City, Achyutananda Dasa describes his own spiritual journey, including his introduction to Krishna consciousness, his trip to India with Srila Prabhupada, his preaching in Bengal, and his travels through South India after taking sannyasa.
This autobiography is written in an entertaining and easy-to-read style.

Softbound, 227 pages, 6″ x 9″. First published 2012.
Price:$10.95
Item Code: ADSB617
By Achyutananda Dasa
ISBN: 978-1-4675-5057-4