Baptist church turned Krishna temple causes double-take in Coconut Grove
Miami, USA – April 13, 2013 (VNN) By JONI B. HANNIGAN via Florida Baptist Witness (FBW)
It used to be a Baptist church, but now it's a Hare Krishna Temple.
Perched near the western edge of Biscayne Bay, in sophisticated northeast Coconut Grove, one of Miami's oldest, but eclectic neighborhoods—known for its artistic flare and individualism—a Hare Krishna Temple hardly stands out as unusual on the corner of Virginia Street and Day Avenue.
What does often cause a second glance is the beautiful, colonial Georgian style white front—with tall, round pillars—almost hidden by lush palms and shrubs that now nearly overpower unused steps leading to doors once wide-open to the community by Florida Baptists who worshipped there a quarter of a century ago.
Some of the neighbors vaguely remember it used to be a Baptist church, but residents in the area generally seem to have positively embraced the new "spiritual" presence.
Terry Sharp, IMB lead strategist for state and associational relations, visited the area as part of an exercise during "Etniciudad" March 1 (see related story on page 12). In a session after conference participants traveled to various parts of the city to observe people and learn about opportunities to connect with them, Sharp said, "sometimes when we see people who have different cultures from our own, we feel like we might offend someone."
He admitted being surprised at finding a Hare Krishna Cultural Center there, but said it was a "teaching moment," and he and Ghiwang Shin, another IMB connector, were treated warmly.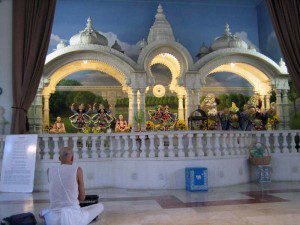 "It was a teaching moment," Sharp said, when he learned of hours the center is open to the community and of their programs. "It says something to us about how we could be salt and light in the community. They are in an urban area, trying to fit in."
Though values shared at the temple are "not the kind of values we think of," members of the community have apparently warmed to them over time.
Shin, whose first language is Korean, said the visit further emphasizes the need to listen carefully to what others are saying—especially when there is a potential language barrier. He said he always endeavors to communicate fully, but finds listening is critical to understanding our communities and our neighbors.
"Terry and I visited the temple and we did it very simply and asked very general questions, with very humble spirits. We didn't assume any answers and they started opening up," Shin said. "I believe this is God's divine appointment to learn [about] each other."
As for the temple, Sharp said what "bothered" him the most was that it used to be a Baptist church.
"Churches disband for whatever reason, [but] help the churches in your community," Sharp said. "Leave it for light and not for darkness."
COCONUT GROVE BAPTIST CHURCH
Coconut Grove Baptist Church, which built its first building on Virginia Street in 1934, had dwindled to about 15 active members, according to church and public records. In just over 40 years the church peaked at more than 400 members before declining in the sixties.
In 1972, members at Coconut Grove voted to became a mission of First Baptist Church of South Miami, but continued to meet at its Virginia Street building. In 1976, the last known year the church filed an ACP with the Miami Baptist Association, the pastor is listed as Timothy Lennon. That same year, records indicate the property was sold for $1 to Victory Fellowship Ministries whose officers are
Timothy and Jean Lennon currently of Ocala, but the sale was "disqualified" after examination of the deed. Public records show the property was sold in 1988 by Victory Fellowship Ministries for $700,000 to a real estate company which a year later, in 1989 sold it for $800,000 to Iskcon (International Society for Krishna Consciousness) which operates a Hare Krishna Temple at the site.