Appearance Day of Srivasa Pandit
Srila Bhaktivedanta Narayana Gosvami Maharaja – Hilo, Hawaii, on January 21, 2004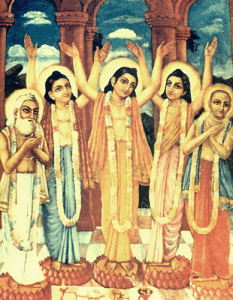 Sri Vyasa-puja is observed for the purpose of pleasing Krsna, and it has been celebrated since the very beginning of our parampara. Sri Sukadeva Gosvami first performed Vyasa-puja to his Gurudeva, Srila Vyasadeva himself. Then, Srila Suta Gosvami performed Guru-puja to his Gurudeva, Sri Sukadeva Gosvami. Just before replying the questions of the sages at Naimasaranya he prayed:
yam pravrajantam anupetam apeta-krtyam
dvaipayano viraha-katara ajuhava
putreti tan-mayataya taravo bhinedus
tam sarva-bhuta-hrdayam munim anato 'smi
(Srimad-Bhagavatan 1.2.2)
["I offer pranama to Sri Sukadeva Gosvami, who can enter the hearts of all living beings. When he left home without undergoing the purificatory processes such as accepting the sacred thread, his father Sri Vyasadeva cried out, 'O my son!' As if they were absorbed in that same feeling of separation, only the trees echoed in response to his call."]
Srila Sukadeva Gosvami prayed, "O Sri Vyasadeva, my father and Gurudeva, how marvelous you are! And how merciful! You are causelessly merciful! You dragged me from the forest and from Mayavada philosophy to your lotus feet, and you taught me Srimad-Bhagavatam. By your mercy I was totally changed." This is the duty of a guru.
The bona fide guru does not consider that his disciples are his property. He does not think, "They are my property." Nowadays I see this going on. So-called gurus think that their disciples are their property; so they accept all their offerings and fall down. A real guru never thinks like that.
At the time of Sri Caitanya Mahaprabhu there was a meeting in the evening after nagara-sankirtana in the house of Srivasa Pandita. In the meeting Sri Caitanya Mahaprabhu announced, "Tomorrow is Vyasa-puja. Srivasa, we will observe Vyasa-puja here in your courtyard. Do you have the paraphernalia?"
Srivasa Thakura replied, "Oh, yes. I have sacred thread, betel nut, rice and all other required ingredients and paraphernalia." Mahaprabhu ordered, "We should be ready at nine in the morning."
All others came on time the next day, but Sri Caitanya Mahaprabhu Himself arrived somewhat late, and saw that all were waiting for Him. He asked, "Why are you waiting? Nityananda Prabhu is My guru – My guru-varga (senior). It seems that he is My elder brother, but I see him in relation to his Gurudeva, who is My param-gurudeva (grand spiritual master). Nityananda is My Gurudeva's guru and is still greater; so He will perform Vyasa Puja." [Nityananda Prabhu had taken diksa from Laksmipati Tirtha, the guru of Sri Madhavendra Puri, who was in turn the parama-guru of Sri Caitanya Mahaprabhu. Nityananda Prabhu was actually Sri Madhavendra Puri's god-brother, but He accepted him as His siksa-guru.]
Before Mahaprabhu's arrival, Srivasa Thakura, Sri Advaita Acarya, and all others had requested Sri Nityananda Prabhu to perform Vyasa-puja. They had told Him, "Please begin." Nityananda Prabhu replied, "Yes, yes, I am just about to do it. I will do it right now." But He was not doing it. He simply remained in his seat. Then, when Sri Caitanya Mahaprabhu came He at once ordered Nityananda Prabhu, "Why are You delaying? You should begin Vyasa-puja."
Nityananda Prabhu then took a very beautiful, fragrant garland and placed it around the neck of Sri Caitanya Mahaprabhu, saying, "You are the same as Lord Krsna," and then He began to perform the arati and worship of Mahaprabhu.
Sriman Mahaprabhu became ashamed, thinking, "Why is He doing this?" Nityananda Prabhu, who is Baladeva Prabhu Himself, possesses full knowledge of all tattva (established truths). In fact, His lotus feet stand on the head of all tattvas. He replied, "What I am doing is correct. We should try to please the worshipable Deity of Srila Vyasadeva – Rasamayi Sri Krsna, who is akhila-rasamitra-sindhu (an ocean of the nectar of pure transcendental mellows). This is Vyasa-puja."
ON MAINTAINING ONE'S BODY
New Braja, Badger, CA: June 1, 2002
In this world, it is essential to maintain our life. Without this, we can't do our bhajana. But don't be worried about this. Your maintenance will come automatically, according to our previous activities. If something comes, that is okay, and if something that you have collected is lost, still you should not worry. Suppose you have deposited many thousands of dollars in a bank, but somehow your business failed and your money was lost. Don't worry about that. You cannot achieve krsna-prema, or anything else, by money. You cannot eat your bank money. You can only eat two capatis or two slices of bread – nothing more. Srila Bhaktivinoda Thakura quotes in his Bhajana Rahasya:
alabdhe va vinaste va
bhaksyacchadana-sadhane
aviklava-matir bhutva
harim eva dhiya smaret
["The mind of one who has taken shelter of the holy name is undisturbed even if food and clothes are not easily obtained or if they are obtained but then lost. Leaving behind all material attachments, he takes complete shelter of Govinda." (Padma Purana)]
Chant Hare Krsna without any worry.
Remember Srivasa Pandita and his four brothers. They chanted throughout the night, "Hare Krsna Hare Krsna Krsna Hare Hare, Hare Rama Hare Rama Rama Rama Hare Hare" and "Hari haraya nama krsna yadavaya namah." There was nothing to eat in Srivasa Pandita's house, and Mahaprabhu told him, "You chant Hare Krsna day and night, but you should also try to maintain yourself. Make some money by working or by begging. Somehow or other you should maintain yourself and your family."
Srivasa Pandita replied, "We will not do so. We will only chant." Then he clapped three times as he said, "One, two, three." Mahaprabhu asked, "What are you doing?" Srivasa Pandita replied, "I will wait one day, and if there is no food, I will wait for another day, and then for a third day. Then, if nothing comes by the third day, I will jump in the Ganges. I will say, 'Hare Krsna' and jump." Mahaprabhu then told all the devotees that those who have sincerely taken shelter and are sincerely chanting will never have to beg. Laksmi, the Goddess of Fortune herself, may beg, but My devotees will never have to do so. I will take responsibility for their maintenance on My own head, and I will arrange everything for them. I will maintain them; this is My promise." Have strong faith in this.
Devotee: Gurudeva, you described some of the glories of Srivasa Thakura. You said he was not even concerned when his little son died during the kirtana. Caitanya Mahaprabhu told him to come back, but he said, "No, I am in a better place now." My question is what better place could he be in? He was already in Mahaprabhu's kirtana with Srivasa Thakura.
Srila Gurudeva: Krsna had called him to participate in the pastimes He was performing in prakata Vraja in one of the universes. He was playing with Krsna and His associates there, and he was very happy. He therefore told Mahaprabhu, "Let me stay here; I am very happy here." It may be that, due to his sadhana-bhajana, he had become a gopi and he was residing with all the gopis. He may have been with Sri Rupa Manjari. Why would he want to return? His new situation was the fruit of his serving Caitanya Mahaprabhu.
sokamarsadibhir bhavair
akrantam yasya manasam
katham tasya mukundasya
sphurttih sambhavana bhavet
["Within the heart of one who is full of anger or pride, or lamentation about the state of his wife or sons, there is no possibility of Krsna being manifest." (Padma Purana)]
What is the meaning?
Sripad Madhava Maharaja: This sloka concerns one whose heart is afflicted by lamentation and anger. Amarsa means anger and soka means sadness. If you loose material things, you become very sad. If you are always absorbed in these two things, then Mukunda, meaning Bhagavan Krsna, will not manifest in your heart.
Srila Gurudeva: If your mind is disturbed, if your heart is disturbed and thus contaminated by these two things, Krsna will not manifest there. Therefore, try to keep your heart very pure in all circumstances. If you lose anything in this world, what harm is there? Sri Rupa Gosvami and Sri Sanatana Gosvami were highly posted officials in the government, but they left their positions. Why? We want to engage all our property in Krsna's service, but they left their property. So, if your property is later stolen or lost, why lament? Don't lament. Otherwise, your heart will be impure and you will not be able to remember Krsna.
yavata syat sva-nirvahah
svikuryat tavad arthavit
adhikye nyunatayanca
cyavate paramarthatah
["If the devotee accepts those things necessary for the maintenance of his life, it does not mean he is a sense enjoyer. The devotee neither accepts too much nor too little, for that hampers his progress towards his goal." (Naradiya Purana)]
For whom has this sloka been told? It has not been told for the kanistha-adhikari. The kanistha-adhikari should engage his money and everything else for Krsna; but this sloka is for those who have ruci. It is for those like Srivasa Pandita. They think, "Whatever comes is okay." They chant the holy name and remain undisturbed, and even if death comes they are not disturbed. Rather, they think, "Many diseases may come, or a relative may die; no harm." They are always satisfied and they are always chanting.
bhaktih paresanubhavo viraktir
anyatra caisa trika eka-kalah
prapadyamanasya yathasnatah syus
tustih pustih ksud-apayo 'nu-ghasam
["Devotions, direct experience of the Supreme Lord, and detachment from other things – these three occur simultaneously for one who has taken shelter of the Supreme Personality of Godhead, in the same way as pleasure, nourishment, and relief from hunger come simultaneously and increasingly, with each bite for a person engaged in eating." (Srimad-Bhagavatam, 11.2.42)]
If you are chanting and remembering but if there is no vairagya (renunciation), it means there is some 'leakage' in your bhakti. If you are chanting and remembering, but you are not satisfied and you are always hankering for worldly things, there is some leakage. Try to repair that leak. Otherwise, it will be as though you are pouring water in a pot, but all the water is pouring out through the many holes in that pot. Anarthas and offences are like holes. You should try to repair the problem. Otherwise, if you do not do so, you will not be able to do bhajana.
ON RATHA-YATHA (THE HERA PANCAMI FESTIVAL)
[Excerpts from Origin of Ratha-yatra]
While Caitanya Mahaprabhu was tasting all this katha , He said, "I have never heard anything like this before – that Laksmi has come with her whole party as a commander-in-chief, as if to attack." Laksmi began to beat Krsna's chariot, and Srivasa Pandita began clapping. He was very happy that the associates of Laksmi were chastising the associates of Vrndavana, imprisoning them, "beating" them, taking a fine from them, taking their garlands and ornaments, and punishing them.
srivasa hasiya kahe, – suna, damodara
amara laksmira dekha sampatti vistara
Sri Caitanya-caritamrta Madhya-lila 14.203
["At this time, Srivasa Thakura smiled and told Svarupa Damodara, "My dear sir, please hear! Just see how opulent my goddess of fortune is!"]
vrndavanera sampad dekha, – puspa-kisalaya
giridhatu-sikhipiccha-gunjaphala-maya
Sri Caitanya-caritamrta Madhya-lila 14.204
["As far as Vrndavana's opulence is concerned, it consists of a few flowers and twigs, some minerals from the hills, a few peacock feathers, and the plant known as gunja."]
Srivasa Pandita smiled and said, "There are no golden crowns in Vrndavana. There are only flutes made of dry bamboo, and some peacock feathers, and Krsna only wears a pitambara and flower garlands. There is nothing of any value there."
eta sampatti chadi' kene gela vrndavana
tanre hasya karite laksmi karila sajana
Sri Caitanya-caritamrta (Madhya-lila 14.206)
Laksmi wondered, "Why did Lord Jagannatha give up so much opulence and go to Vrndavana?" To make Him a laughing-stock, the goddess of fortune made arrangements for much decoration. People in the mood of opulence may think like this. They are all on the side of Laksmi-devi. Svarupa Damodara, however, being Lalita in krsna-lila, is of her mood and therefore a pure Vrajavasi.
tomara thakura, dekha eta sampatti chadi'
patra-phala-phula-lobhe gela puspa-badi
Sri Caitanya-caritamrta (Madhya-lila 14.207)
["Then the maidservants of the goddess of fortune said to the servants of Lord Jagannatha: 'Why did your Lord Jagannatha abandon the great opulence of the goddess of fortune and, for the sake of a few leaves, fruits, and flowers, go see the flower garden of Srimati Radharani?"]
… ["Your master is so expert at everything. Why does He do such things? Please bring your master before the goddess of fortune." In this way, all the maidservants of the goddess of fortune arrested the servants of Jagannatha, bound them around the waist, and brought them before the goddess of fortune. When all the maidservants brought Lord Jagannatha's servants before the lotus feet of the goddess of fortune, the Lord's servants were fined and forced to submit. All the maidservants began to beat the ratha with sticks, and they treated the servants of Lord Jagannatha almost like thieves. (Sri Caitanya-caritamrta (Madhya-lila 14.208–11))"]
Here, Jagannatha's servants were the associates of Mahaprabhu, and those who were with Laksmi-devi were also the servants of Jagannatha.
saba bhrtya-gana kahe – yoda kari' hata
'kali ani diba tomara age jagannatha'
Sri Caitanya-caritamrta (Madhya-lila 14.212)
["Finally all of Lord Jagannatha's servants submitted to the goddess of fortune with folded hands, assuring her that they would bring Lord Jagannatha before her the very next day."]
Jagannatha's servants made this promise, and then Laksmi fined and punished them and returned to her abode. Now Srivasa Pandita asked Svarupa Damodara the following question: "Do you know that all the gopas and gopis in Vrndavana are very poor? They have no golden ornaments. They only milk cows and make butter, ghee, and similar things, and then they use it all themselves. Vrndavana is not like Mathura and Dvaraka; there are no palaces there, and the residents have only carts and kunjas. All the garlands there are made of flowers, whereas the garlands in Dvaraka are made of pearls, diamonds, and other jewels. So why does Krsna go to Vrndavana?"
Krsna goes to Vrndavana because the natural love and affection there is not found in Dvaraka, or anywhere else. In Dvaraka, love and affection is controlled by rules and regulations, just as the Vedas control by rules and regulations. In Vrndavana there is no control, for the gopis serve Krsna by their parakiya mood. This is possible only in Vrndavana, not in Mathura and Dvaraka.
svarupa kahe, – Srivasa, suna savadhane
vrndavana-sampad tomara nahi pade mane?
Sri Caitanya-caritamrta (Madhya-lila 14.218)
Svarupa Damodara then retorted, "My dear Srivasa, please hear me with attention. You have forgotten the transcendental opulence of Vrndavana."
vrndavane sahajika ye sampat-sindhu
dvaraka-vaikuntha-sampat – tara eka bindu
Sri Caitanya-caritamrta (Madhya-lila 14.219)
["The natural opulence of Vrndavana is just like an ocean. The opulence of Dvaraka and Vaikuntha is not even to be compared to a drop."]
One flower of Vrndavana can give millions of diamonds and other opulences, though Krsna's associates do not want that. They only make garlands for decoration, and their ankle bells are made of desire stones (cintamani) although they have no need of them. They only use them when they are dancing.
Suppose you are very wealthy and have many millions of dollars, but you are not getting any love and affection; and suppose that somewhere else there is no wealth, but there is love and affection. Where would you prefer to be? As long as there is love and affection, there is no loss in being poor. Similarly, there is no deficiency in Vrndavana because there is only love and affection. Vrndavana is the place of the most elevated love and affection.
Krsna is the Supreme Personality, and therefore He wants to taste supreme love and affection. He is not satisfied with any second-class love. Svarupa Damodara was explaining this, and Mahaprabhu responded, "More, more! I want to hear more!" The topics presented at the Hera-pancami Festival are all very secret topics from Ujjvala-nilamani. Mahaprabhu questioned, and Svarupa Damodara replied with many slokas regarding all the moods of madhya, pragalbha, dhira, adhira, mugdha, and so on. Try to be at least in madhyama-adhikara, and then try to understand all these topics. This is the aim and object of everyone in Caitanya Mahaprabhu's line.
Why Krsna did not take Laksmi
For advanced devotees, who are conversant with the truths concerning this lila, the Hera-pancami Festival is superior even to that of Jagannatha's riding to Sundaracala. Such devotees know why Caitanya Mahaprabhu descended to this world. If you are not reading and hearing the Tenth Canto of Srimad- Bhagavatam, you can never know why He came, and you will be cheated. Try to hear Srimad-Bhagavatam from elevated Vaisnavas, and do not listen to those who say, "Oh, we should not read the Tenth Canto of Srimad-Bhagavatam."
Actually, there are three reasons one may say this. The first is that one has no knowledge, and the second is that one is following the order of the good devotees who know everything. These devotees are actually telling us, "You should begin from the First Canto, proceed to the Ninth Canto, and then you can finally come to the Tenth Canto." The third reason is to create an interest. For example, one may close his fist and ask, "What is in my hand? Can you tell what is in my hand?" If someone else hears this, he may become curious to know. Similarly, if anyone says, "Don't read the Tenth Canto of Srimad-Bhagavatam," an aspiring devotee will automatically become curious and ask, "What is there? I should know."
In my village there was a devotee who used to bathe in the Ganga every day. If anyone said to him, "Rama! Rama!" he would appear very furious and hold his stick up as though he wanted to beat that person. The boys of all the nearby villages used to come to him and say, "Rama! Rama!" and he used to run after them. Why did he do this? It was just to enthuse them to say, "Rama! Rama!" It was like a game. Similarly, if anyone tells you not to read Srimad-Bhagavatam, you should be curious to know, "What is inside? There must be some jewel there."
If you do not read and hear the Tenth Canto, you will never be able to decide the aim and object of your life and devotion. For example, if you hear about Mother Yasoda, a greed for motherly love may arise. You may begin to think about how she loves Krsna, the Supreme Personality of Godhead, and how she bound Him with her love and affection. A greed for friendship may arise when you hear that the cowherd boys sometimes play with Krsna, and when you hear that Krsna is their life and soul, and that they cannot remain alive unless they are playing with Krsna; they will die. If Krsna hides behind a tree for a moment, all the cowherd boys wonder anxiously, "Where is Krsna? Where is Krsna?" And, if you hear the most elevated topic in Srimad- Bhagavatam, the service of the gopis to Krsna – and especially what is told in Gopi-gita, Venu-gita, Bhramara-gita, and other such chapters – you may develop a greed for this service. This is the aim and objective of the most exalted and pure devotees, and it is not possible to develop greed without reading and knowing Srimad-Bhagavatam.
The first nine cantos create a platform for the Tenth Canto by removing all your unwanted desires, offenses, and worldly requirements and attachments. After that you should read the Tenth Canto, then you should decide how to attain the goal of life, and then you should read the Eleventh Canto.
An even easier process is to follow the essence of Srimad- Bhagavatam, and that essence is Sri Caitanya-caritamrta. You will have to read Caitanya-caritamrta and the books of Rupa Gosvami, Sanatana Gosvami, Jiva Gosvami, Raghunatha dasa Gosvami, Krsnadasa Kaviraja Gosvami, Narottama dasa Thakura, Visvanatha Cakravarti Thakura, and Srila Bhaktivinoda Thakura. In particular, Narottama dasa Thakura and Bhaktivinoda Thakura have explained the essence of Caitanya-caritamrta in language that can be understood easily. If you want to be pure and high-class devotees, you must know all the truths presented in their literature.
…Now we are coming again to our subject: Hera-pancami. Jagannatha was not alone when He departed on His chariot. He was with Subhadra and Baladeva. But why did Laksmi become furious? Jagannatha had become indifferent to her and meeting with others. She felt neglected and became angry over this.
You should know the significance of these three places: Jagannatha Puri, Vrndavana, and Kuruksetra. First you should know the significance of Jagannatha Puri. Krsna is the son of Vasudeva and Devaki there. He never has a flute in His hand, He does not wear a peacock feather, and He cannot address Nanda Baba as "Father" or Yasoda-maiya as "Mother." He will have to forget the gopis while He is there. He can think about them in His heart, but He will not tell any of His queens, like Satyabhama, Rukmini, and others, "I love the gopis more than you." He can never say this.
Jagannatha Puri is Dvaraka. All the Yadavas are there, and Krsna sports with all His queens there. Do you know Vimala-devi in the Jagannatha Temple? Rukmini is like Vimala-devi. Laksmidevi is also there, and she represents all the queens, especially Rukmini and Satyabhama. There are no gopis in the Jagannatha Temple or Jagannatha Puri. They can never be there, and that is why it is Dvaraka Puri.
What is Kuruksetra? Krsna has come from Dvaraka to Kuruksetra, and therefore it is part of His dvaraka-lila. There is a speciality there, though, in that Nanda Baba, Yasoda-maiya, all the gopis like Radha, Lalita, Visakha, and most of the other Vrajavasis went there to meet with Krsna. Still, there is immense opulence there, whereas in Vrndavana the gopis freely play with Krsna.
Laksmi-devi thinks, "There is so much opulence here. Why should Dvarakadhisa-Krsna go to any impoverished place?" Krsna never told her, "I am going to Vrndavana." He cheated Her by saying, "I have caught a cold. Now I want to go somewhere to get some fresh air. I want to go to a forest, to get a breath of fresh air and feel rejuvenated." He played a trick so that Laksmi would not think He was going to run off to Vrndavana. To cheat Her, He took along His brother Baladeva Prabhu and His sister Subhadra. He was thinking, "Yasoda-maiya knows them, and Rohini also knows them. I will leave them with Yasoda-maiya and then I will stealthily go to Radha-kunda, Syama-kunda, and Giriraja-Govardhana, where all the beautiful kunjas are situated. I will play with all the gopis there. Baladeva Prabhu and Subhadra will take their meals with Mother Yasoda and be very happy there, and I will go and play. No one will know." He did not tell anyone where He was going, and He ran at once to Vrndavana – Sundaracala. Mahaprabhu's mood has revealed that the Gundica Mandira in Sundaracala is Vrndavana. Before Mahaprabhu, no one knew all these high truths, but now everyone can know.
krsno 'nyo yadu-sambhuto
yah purnah so 'sty atah parah
vrndavanam parityajya
sa kvacin naiva gacchati
Sri Caitanya-caritamrta (Antya-lila 1.67)
["The Krsna known as Yadu-kumara is Vasudeva-Krsna. He is different from the Krsna who is the son of Nanda Maharaja. Yadukumara Krsna manifests His pastimes in the cities of Mathura and Dvaraka, but Krsna the son of Nanda Maharaja never at any time leaves Vrndavana."]
vrndavanam parityajya padam ekam na gacchati
["Krsna never goes even a step from Vrndavana."]
It is because of Radhika that Krsna never leaves Vrndavana. He stays there only for Her, and both of Them do not go anywhere else. Then who went to Kuruksetra? Radhika will never go there. It was Samyogini-Radhika, who is Vrsabhanu-nandini Radhika's manifestation, and not directly Radhika Herself, who went to Kuruksetra. Vrsabhanu-nandini Radhika will always remain at Radha-kunda and Syama-kunda in Vrndavana. If Radha and Krsna are always together in Vrndavana, why does Radhika feel so much separation from Krsna, and why does She always weep for Him? Sometimes She becomes so absorbed in love and affection in separation from Krsna that even when She sees a tamala tree, She thinks, "O Krsna! O Krsna! Oh, now You are here." She quarrels with "Him," becomes angry with Him, and sometimes She embraces that tamala tree as if it were Him. How can there be a separation mood there in Vrndavana?
There is no actual separation in Vrndavana, but there is some separation mood. In Vrndavana there is the rasa-lila, and Prema-sarovara as well, and Radha and Krsna feel great ecstasy in meeting there. Who experiences the separation mood in Nandagaon? Who met with Uddhava? To whom did Uddhava offer his prayers?
vande nanda-vraja-strinam
pada-renum abhiksnasah
yasam hari-kathodgitam
punati bhuvana-trayam
Srimad-Bhagavatam (10.47.63)
["Uddhava prayed: 'I forever pray to the dust of the lotus feet of the gopis in Nandagaon. The hari-katha emanating from their lotus mouths in their separation mood purifies the entire universe.'"]
asam aho carana-renu-jusam aham syam
vrndavane kim api gulma-latausadhinam
ya dustyajam sva-janam arya-patham ca hitva
bhejur mukunda-padavim srutibhir vimrgyam
Srimad-Bhagavatam (10.47.61)
["The gopis of Vrndavana have given up the association of their husbands, sons, and other family members, who are very difficult to give up, and they have forsaken the path of chastity to take shelter of the lotus feet of Mukunda, Krsna, which one should search for by Vedic knowledge. Oh, let me be fortunate enough to be one of the bushes, creepers, or herbs in Vrndavana, because the gopis trample them and bless them with the dust of their lotus feet."]
In Nandagaon, Radhika is Viyogini-Radhika, another manifestation of Vrsabhanu-nandini Radhika. Vrsabhanu-nandini Radhika has practically no separation mood at all, for She and Krsna always meet together and embrace. Her manifestation, Viyogini-Radhika, is present in Nandagaon, and She appears as Samyogini in Kuruksetra. You cannot deeply understand these truths without being constantly in the association of pure Vaisnavas.
At the Ratha-yatra Festival, Mahaprabhu experiences the moods of Samyogini-Radhika in Kuruksetra, not those of Vrsabhanu-nandini. Vrsabhanu-nandini Radhika will never leave Vrndavana and go to Mathura or Dvaraka, even if Krsna weeps bitterly for Her there. Viyogini-Radhika will also not give up Vrndavana to go to Kuruksetra; only Samyogini-Radhika will go there. So at the Ratha-yatra Festival, Mahaprabhu is absorbed in the mood of Samyogini-Radhika, pulling Krsna on the chariot from the Jagannatha Temple – that is, from Dvaraka Puri – to Vrndavana. What can I say more than this? No one can say anything more.
Laksmi came with her associates, riding on a golden palanquin and profusely decorated with golden ornaments. She arrived at the Simha-dvara along with musicians beating drums, and dancing girls who were Jagannatha's deva-dasis. Caitanya Mahaprabhu was sitting very comfortably there, and He listened to the dialogue that ensued.
Why did Krsna not take Laksmi-devi to Vrndavana? She could not go, because she was not qualified. Even Satyabhama and Rukmini were not qualified to go to Vrndavana, and that is why they never went. One may ask, "What harm would there be if Radhika and all the gopis went to Dvaraka?" There would be so much harm; they would not be satisfied there. They would see Rukmini, Satyabhama, and all Krsna's queens with Him, and He would not be able to leave their company. Sometimes Krsna's sons would come to sit on His lap, and Srimati Radhika would not be able to do anything about it. So She will never go there – never.
If Radhika does not go to Dvaraka, how can Laksmi go to Vrndavana? She cannot go. After she performed austerities in Baelvana for thousands and thousands of years, Krsna came and asked her, "Why are you doing this?" She replied, "I desire a benediction from You. I want to join the rasa-lila." Krsna said, "That is absurd – you cannot." "Why not?" she asked. "I'll tell you why," Krsna replied. "After this birth, you will have to take birth in the womb of a gopi in Vrndavana, and then you will have to marry a gopa. After that you will have to associate with nityasiddha- gopis, and only then you can join the rasa-lila, when you are sufficiently purified." Even a gopi who has come from the womb of a gopi is unqualified if she has any children by her husband. None of the gopis in the rasa-lila have had any children, and they have nothing to do with their husbands.
Krsna continued, "So how can you go? You will have to give up your brahmani body and your chastity to Narayana. You will have to cheat your gopa husband and absorb yourself in parakiya-bhava. Then, in the form of a gopi, you can join the rasa-lila." Laksmi objected, "How can I give up my husband Narayana? I cannot give Him up, I cannot give up my chastity, and I cannot marry a gopa." Then Krsna said, "Then wait, wait. You will obtain this boon from Me when you are able to do all these things." Even now Laksmi is performing austerities, but she is still not qualified.
You may want this gopi-prema, but it is so very high. Caitanya Mahaprabhu was very merciful, and He descended to the material world to give it. It is very precious – more so than anything. It is very difficult to attain even for Narada, Laksmi, Sankara, and all the other great personalities, so what to speak of lesser personalities? However, if someone has pure greed to serve Radha- Krsna Yugala, and to serve in the rasa-lila, he is very fortunate.
Let us say someone has become greedy for a rasagulla, and there is no money in his pocket. Then by grabbing it, stealing it, or by any means he will get it. In the same way, if you have that kind of high-class greed for gopi-prema, an opportunity will come to attain it. Where there is a will, there is a way; the way must come.
Krsna Himself gave the way in His form as Caitanya Mahaprabhu. He also sent His devotees like Svarupa Damodara, Raya Ramananda, Rupa Gosvami, Raghunatha dasa Gosvami, Krsnadasa Kaviraja Gosvami, Srila Bhaktivinoda Thakura, Srila Prabhupada, our gurudeva, and Srila Bhaktivedanta Swami Maharaja. I have also come, and I want to give you a little greed for this gopi-prema, which is the aim and object of our lives. I have not come to give vaidhi-bhakti, because so many people coming from India are giving that. They will tell you to serve Jagannatha, Baladeva, and Subhadra, and they will tell you not to read the Tenth Canto of Srimad-Bhagavatam. I have not come for this. I have come in the line of Srila Rupa Gosvami, and in the line of Srila Prabhupada, my gurudeva, and my siksa-guru, Srila Swami Maharaja.
A person will not hear if he has no greed for the goal of life. He is sleeping now, and he will continue to sleep. If he has no greed or interest, he must sleep like the camels, dogs, hogs, pigs,and especially like the donkeys. I have only come for those who have some taste and greed for this, and I have come to give this greed to those who want it, so that they can advance in the line of Mahaprabhu.
When Srivasa Pandita heard these topics from Sri Svarupa Damodara, he began to laugh very loudly, "Hee, hee! Ho, ho!" Caitanya Mahaprabhu was deeply absorbed in the moods of the festival, and He watched silently as Srivasa Pandita continued to laugh and tell Svarupa Damodara, "You don't know anything. Don't you see the opulence of my aradhya-devi (worshipable deity) Laksmi-devi? She is decorated with golden ornaments, and she sits on a golden palanquin like a commander-in-chief with all her associates. But in Vrndavana, there is nothing. The gopis there can make some garlands, but only from flowers; there is no abundance of diamonds or gold – nothing of the kind. There are no golden palanquins. There are only bullock-carts made of wood and bamboo. There is nothing there; only flowers. There are some cows there, giving milk, and there is forest. Krsna can only graze His cows there. He has no throne to sit on, and He doesn't even have shoes or an umbrella. He goes cowherding barefoot, and if He doesn't do this, His father may chastise Him."
Srivasa Pandita continued:
vrndavana dekhibare gela jagannatha
suni' laksmi-devira mane haila asoyatha
Sri Caitanya-caritamrta (Madhya-lila 14.205)
["When Jagannatha decided to see Vrndavana, He went there, and upon hearing this, the goddess of fortune experienced restlessness and jealousy."]
Laksmi, who represents Satyabhama and the other queens, thought angrily, "Here in Dvaraka, my husband is always sitting on a golden throne, and He has so many military commandersin- chief, and so many beautiful queens, and each queen has ten sons and a daughter. Why did Krsna go to Vrndavana?"
I have seen something like this in my boyhood. My mother would give me a slap if she was giving me something sweet and I wanted something else instead. So Laksmi was very unhappy and angry, and she tried to attack her husband to force Him to come under her control. She wanted to defeat Him and bring Him back to Dvaraka by quarreling and attacking Him.
Mahaprabhu smiled somewhat and said, "Oh, Srivasa Pandita has the nature of Narada. He always glorifies Laksmi and Narayana, and Dvarakadhisa. Svarupa Damodara is a pure Vrajavasi, and that is why he glorifies the gopis. Srivasa cannot do so."
Almost everyone in this world and universe glorifies Laksmi. Very, very few and rare people glorify the gopis and Krsna. This is true even in India. There are some groups that put forward the view that Srimad-Bhagavatam is not authentic evidence. They say that someone other than Vyasadeva compiled it; so it is bogus, and therefore the love and affection of the gopis is also bogus. There are many who reject all these topics, and only highclass devotees have a taste for them.
Svarupa Damodara then said, "O Srivasa, don't you remember that the trees in Vrndavana are kalpa-vrksa (desire trees)? They can give millions of tons of gold, and everything else. Anyone can have whatever he desires from those trees, but the gopis have no personal desires. They simply decorate their hair with the flowers of those trees.
"The ankle-bells of the gopis are made of cintamani, but the gopis never use them for fulfilling their desires; they only wear them to make sweet sounds while they dance with Krsna. The cows are kama-dhenu. What does that mean? They not only give milk, but they give the "milk" of the fulfillment of all desires. They can give anything a person wants, but the gopas and gopis don't want anything from them. They only want milk and butter. You don't know all these truths because you have not gone to Vrndavana. You don't know even the A-B-C's of Vrndavana. The flowers there are more valuable than the parijata flowers of the heavenly planets. They are always fragrant, and they never become stale. They can give anything, but you don't remember this."
He then quoted Brahma-samhita (5.56): "Sriyah kantakantah parama-purusah – in the spiritual world, all the female lovers are goddesses of fortune and the male lover is the Supreme Personality." After Srivasa Thakura heard all this from Svarupa Damodara, his mood changed. He entered the mood of Madhumangala [See Endnote 5] Krsna's intimate sakha in Vraja, and then he began to dance, remembering the glories of Vraja.
After Mahaprabhu heard Svarupa Damodara's katha, He went to a flower garden and along with the devotees took rest there. Then, after He awoke and bathed, He began singing and dancing with His devotees, absorbed in krsna-prema. Then, when they had performed kirtana throughout the day, Svarupa Damodara tricked Mahaprabhu by telling Him, "Now we are all tired, so please stop Your dancing. Jagannatha-deva has sent very beautiful and sweet prasada, like rice, dahl, puri, kacauri, chena (curd), paida (coconut), pana (fruit juice), sara-puri (a kind of puri made with cream), and many other varieties of preparations." Mahaprabhu began to distribute the prasada Himself, but Svarupa Damodara said, "Everyone is waiting for You. No one will take prasada if You don't take." Then Mahaprabhu sat down and began to taste the prasada, and everyone called out, "Hari bol!"
You can read this discussion between Srivasa Pandita and Svarupa Damodara in its entirety in Sri Caitanya-caritamrta [Madhya-lila, Chapter 14].