Appearance Day of Srila Narottama dasa Thakura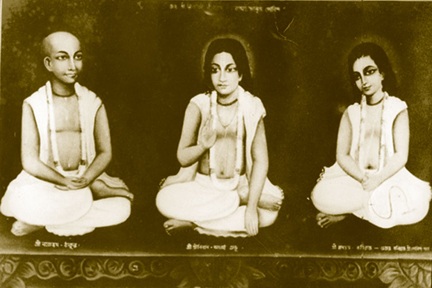 Sri Srimad Bhaktivedanta Narayana Gosvami Maharaja – 02/16/1997 Bali
Today is a very auspicious day. It is the birthday of Srila Narottama dasa Thakura, who is one of the solid and strong pillars of Sri Caitanya Mahaprabhu's preaching. After the generation of the Six Gosvamis and Srila Krsnadasa Kaviraja Gosvami, Narottama Thakura, Syamananda Prabhu and Srinivasa Acarya became the leaders of the Vaisnavas in Bengal. They took all the books of the Six Gosvamis and other authentic Vaisnava literatures and preached all over Bengal. Especially, Narottama Thakura preached in Eastern India, in such places as Assam and Manipura.
Srila Narottama Thakura was a prince. He was the son of very famous king in that area. From childhood he had impressions of pure devotion and wanted to cultivate them. He therefore went to Vrndavana, where he heard about the glory of Sri Jiva Gosvami and became attracted to him. Together with Syamananda and Srinivasa, he studied all the sastras from Jiva Gosvami – Vedanta-sutra, Srimad-Bhagavatam, and especially the Six Sandarbhas. In this way, the three of them became learned in Caitanya Mahaprabhu's Gaudiya siddhantas.
Syamananda Prabhu was a disciple of Hrdayananda of Kalna, yet he joined in to hear the lectures of Sri Jiva Gosvami, and he treated him more like his guru than his Gurudeva, Sri Hrdayananda. Sri Narottama Thakura also studied in the school of Sri Jiva Gosvami. Jiva Gosvami personally told him to take initiation from Lokanatha dasa Gosvami, and he told Srinivasa Acarya to take initiation from Gopala Bhatta Gosvami. In those days there were no restrictions as there are today. Everyone was free to associate with topmost Vaisnavas.
In fact, gurus would advise their disciples: "Take the association of these most exalted Vaisnavas, and in this way you will develop your Krsna consciousness." There was no caste consciousness as there is today: "Don't go to other Vaisnavas, even though they may be very high-class. This is our party, and that is their party, and that is the other group's party." At that time there was no party spirit at all; everyone belonged to the family of Caitanya Mahaprabhu. All used to hear from all.
Jiva Gosvami had such a pure heart, free from any envy, that he told Narottama Thakura and Srinivasa Acarya to take initiation from these two high-class Vaisnavas. They had made up their minds to take initiation from Jiva Gosvami, but he told them: "Oh, they are my seniors. You will be more benefited by taking their shelter." We are not pure enough to speak in this way to our subordinates. Our hearts are not so improved.
Thus, Jiva Gosvami sent them to those two great Vaisnavas – but the two had vowed to not make any disciples.
The pastimes of Lokanatha dasa Gosvami have not been told in Caitanya-caritamrta or in any other book. Lokanatha dasa Gosvami was such a topmost elevated Vaisnava that he warned Krsnadasa Kaviraja Gosvami, Srila Rupa Gosvami, Srila Sanatana Gosvami, and other writers: "If you want my mercy, then do not glorify me or write my name in your books." When they assured him of this, only then did he give his blessings and tell them: "Your books will be successfully completed. Krsna's mercy will be on you." It is for this reason that these great Vaisnava authors have not mentioned his name. They obeyed him; they followed his order.
One day, by the order of Jiva Gosvami, a very beautiful prince, that boy Narottama, came to Lokanatha dasa Gosvami and took his foot-dust. Lokanatha dasa Gosvami asked him: "Who are you?"
Narottama replied, "I am a very wretched person, a fallen boy. I want to take shelter of your lotus feet. Please initiate me."
Lokanatha dasa Gosvami flatly refused. He told Narottama, "You can go to any famous Vaisnava and take his shelter. I am a worthless person. I don't know how to do bhajana. I only eat, drink, and sleep. I do not engage in bhakti. It is better that you go to any learned and qualified person."
Narottama dasa Thakura requested again and again, but Lokanatha das Gosvami remained grave and refused to initiate him. Although Narottama dasa Thakura left at that time, he began to think how he could possibly get initiation from this maha-bhagavata.
Narottama dasa was very worried, and began to think how to please him. He began to clean the place where Lokanatha dasa Gosvami was passing stool in the forest. He thus cleaned regularly, every night, and he also cleaned the path to that place. Once, in a very dark night, at about midnight, Lokanatha dasa Gosvami caught hold of the hand of this boy and asked him, "Who are you, and why are you doing this?" Narottama dasa Thakura began to weep bitterly and replied, "Because I want to please you."
"Oh, you are very pure devotee. What do you want?"
"I only want to be initiated by you." Narottama dasa again began to weep.
On seeing the boy's devotion Lokanatha dasa Gosvami was at once moved and accepted him. He told him, "Please come to me after taking bath in the Yamuna."
The next morning Narottama took bath and came to Lokanatha dasa Gosvami, who initiated him into the krsna-mantra (gopala-mantra), klim krsnaya svaha, and the kama-gayatri, klim kamadevaya. He gave him these two mantras and advised him: "Don´t go anywhere. Be seated here with me in my bhajana kutira." He built a hut for him, right next to his own, and said, "Always remain here with me, chant harinama, and hear from me." Narottama dasa did as he was told.
One day at midday, when the sun was very hot, a thirsty farmer came and asked Lokanatha dasa Gosvami, "Please give me some water, or give me some rope and a bucket so that I can pull water from the well." Lokanatha dasa Gosvami did not reply; perhaps he did not even see that person, as he was quite absorbed in his bhajana. Because Lokanatha dasa Gosvami could not hear him, the farmer went to the next hut and asked Narottama: "Oh, young babaji, can you give me some water?" Narottama came out and gave him some water. Thus, the farmer was satisfied and went away.
Later, Lokanath dasa Gosvami called Narottama and said "You don´t know what is bhajana? Krsna is personally His name; there is no difference at all between them."
nama cintamanih krsnas
caitanya-rasa-vigrahah
purnah suddho nitya-mukto
'bhinnatvan nama-naminoh
["The holy name of Krsna is transcendentally blissful. It bestows all spiritual benedictions, for it is Krsna Himself, the reservoir of all pleasure. Krsna's name is complete, and it is the form of all transcendental mellows. It is not a material name under any condition, and it is no less powerful than Krsna Himself. Since Krsna's name is not contaminated by the material qualities, there is no question of its being involved with maya. Krsna's name is always liberated and spiritual; it is never conditioned by the laws of material nature. This is because the name of Krsna and Krsna Himself are identical." (Padma Purana)]
"In some ways the name is even superior to Krsna. You don´t know this truth? You are serving Krsna (chanting or remembering Krsna means serving Him), but you were thinking that the service of chanting harinama is inferior to giving water to a thirsty person; that is why you served him. You have no belief that Krsna can quench his thirst. Krsna can give anything, but you have no faith in Him. So, return at once to your home. Become qualified there, and then you can come back. At present you are not qualified."
One should have strong faith in Krsna's name. You know the strong faith of Haridasa Thakura? He was whipped in twenty-two market places and his skin and muscles became shredded, but he never left his chanting of harinama.
Lokanatha dasa Gosvami thus ordered Narottama dasa Thakura, "Leave this place." Hearing this Narottama began to weep bitterly. Although Lokanatha das Gosvami had a very soft heart, like a flower, he desired auspiciousness for Narottama dasa, and so he became hard like a stone. It was for Narottama's welfare that he said, "Go from here."
Narottama das Thakura was not an ordinary devotee. He was an associate of Srimati Radhika Herself, and in his manjari form he is Vilasa-manjari. He was playing a role only, to give inspiration to devotees.
He was weeping and returned to his home, but he realized everything. In fact, he began to chant and sing in such a way that Sri Caitanya Mahaprabhu with all His associates would come to listen to his classes and his singing. He sang pathetically, with tears in his eyes and a choked voice, "Krsna Krsna Hare Hare," and [Lalasmayi Prarthana (Songs of the Vaisnava Acaryas)]:
'gauranga' bolite ha'be pulaka-sarira
'hari hari' bolite nayane ba'be nira
["When will that time come that my hairs will stand on end upon singing the name Gauranga? When will my eyes overflow with tears as I chant the holy names of "Hari Hari?"]
ara kabe nitai-cander karuna hoibe
samsara-vasana mora kabe tuccha ha'be
["And when will the moon of Nityananda Prabhu bestow His mercy on me? When will material desires become small and insignificant?"]
visaya chadiya kabe suddha ha'be mana
kabe hama herabo sri-vrndavana
["When will I renounce material enjoyment and my mind will become purified? When will I see the cinmaya svarupa of Sri Vrndavana?"]
rupa-ragunatha-pade hoibe akuti
kabe hama bujhabo se jugala-piriti
["When will I eagerly follow the path of Sri Rupa Gosvami and Sri Raghunatha dasa Gosvami? By their instructions I will be able to understand the divine love of Sri Radha and Krsna."
rupa-raghunatha-pade rahu mora asa
prarthana koroye sada narottama dasa
["My only aspiration is to attain the lotus feet of Sri Rupa Gosvami and Sri Raghunatha dasa Gosvami. This is Narottama dasa's constant prayer."]
He sang kirtana along with mrdanga, and each word of his kirtana was uttered by his mrdanga. The mrdanga sounded like the singing of Narottama himself, although it was actually the sweet sound was coming from his mrdanga. Narottama's mood was such that Caitanya Mahaprabhu, Nityananda Prabhu, Svarupa Damodara, Raya Ramananda, Vakresvara Pandita, Srivasa Pandita, and all of Mahaprabhu's associates appeared and began to dance with Narottama Thakura, and when he stopped his kirtana, they at once disappeared. The thousands of devotees present there were astonished. When he was singing about Sri Radha and Krsna, Radha-Krsna personally came to hear, with all of Their associates, and Krsna was playing beautiful songs on His flute.
Thus, in a few years Narottama dasa Thakura preached all over East Bengal, Assam, and Manipura.
He hailed from the village Kheturi; he was born and brought up there, and his father and uncle were living there. His father was a big king. Narottama dasa Thakura manifested six Thakuras (Deities) there, namely Radha-Govinda, Radha-Gopinatha, Radha-Madana-mohana, Radha-Vamsidhari, Radha-Giridhari, and Radha-Vallabhi-kanta.
He also organized a great festival that became famous in the Gaudiya-Vaisnava history. Srimati Jahnava-devi (who is Ananga-manjari in krsna-lila), the wife of Nityananda Prabhu, was elected as president. All accepted her like their preceptor, including Srila Jiva Gosvami and Raghunatha dasa Gosvami.
When Virabhadra, the son of Nityananda Prabhus wife Vasudha, became sixteen years old, he wanted to take initiation, but he could not find any person whom he considered qualified. Someone told him, "Why are you not taking the shelter of Srimati Jahnava-devi and being initiated by her?" He said, "She is a lady; I don't want to be initiated by a lady." Then, one early morning, Srimati Jahnava-devi was pulling water from a well to take a shower, when Viracandra came to take some advice from her for some necessary work. He saw her pulling out water from the well half naked, with just a towel covering the lower half her body. Both of them were ashamed to see each other in this circumstance, even though she was an elderly and like a mother to him. Srimati Jahnava-devi at once manifested four-arms, with two pulling water from the well and the other two covering her breasts. Astonished, Virabhadra immediately he fell flat at her lotus feet and begged her to forgive his offences. He told her, "I have nothing more to do. I want to take initiation from you right now. You are my guru."
So Srimati Jahnava-devi is a very exalted personality, the power (sakti) of Sri Nityananda Prabhu, and she serves Radha-Krsna in Their conjugal love in the form of Ananga-manjari. Therefore, she was elected as the supreme leader of the Gaudiya Vaisnavas. At this festival, all prominent Vaisnavas of that time came together, like Sri Syamananda Prabhu, Sri Srinivasa Acarya and hundreds of thousands of other devotees. It was one the biggest festivals in the history of Vaisnavism.
All present were charmed on hearing the sweet songs of Sri Narottama dasa Thakura, and all of them were blessed with the darsana of Sri Radha Krsna and Caitanya Mahaprabhu, who came to hear these sweet melodies.
Narottama dasa Thakura was the best devotee of his time. He is an associate of Sri Sri Radha-Krsna and Sri Caitanya Mahaprabhu, and in fact he is a manifestation of Sri Caitanya Mahaprabhu.
Sri Lokanatha dasa Gosvami is also an associate of Sri Sri Radha-Krsna, by the name of Manjulali-manjari. By sending Narottama Thakura back to his village, he played a trick, and by this trick he sent Narottama dasa Thakura to preach all over the world. Had he not done so, no such preaching would have been done; all preaching would have been destroyed. If he had continued to request Narottama to sit and chant harinama in his kutira, there would not have been such great preaching.
You can also look at the example of Sri Bhaktisiddhanta Sarasvati Gosvami Thakura and Srila Gaurakisora dasa Babaji Maharaja. Srila Gaurakisora dasa Babaji Maharaja was a follower of Lokanatha dasa Gosvami. He never wanted name, fame, or anything like this. He always chanted harinama and used to sing in the deepest of moods, with tears in his eyes: "Oh Radhe, Prema-mayi Radhe Radhe, Govinda, where are You?"
gosai eka-bara dake radha-kunde
abara dake syama-kunde, radhe radhe
[…sometimes at Radha-kunda, sometimes at Syama-kunda.]
gosai eka-bara dake vrndavane
eka-bara dake bandhirvane
[Adapted from Kothaya Go Premamayi Radhe Radhe]
Gosai in this connection refers to Raghunatha dasa Gosvami.
Srila Gaurakisora dasa Babaji Maharaja could not live without remembering Srimati Radhika, always calling out: "Oh Radhe, where are You, where are You?" Rolling down on the earth, he cried:
he radhe! vraja-devike! ca lalite! he nanda-suno! kutah
sri-govardhana-kalpa-padapa-tale kalindi-vanye kutah
gosantav iti sarvato vraja-pure khedair maha-vihvalau
vande rupa-sanatanau raghu-yugau sri-jiva-gopalakau
["I am doing vandana to the Six Gosvamis, who were always calling out, "O Radhe! O Queen of Vrndavan! Where are You? O Lalite! O son of Nanda Maharaja! Where are you? Are you seated beneath the kalpa-vrksa trees of Sri Govardhana Hill? Or are You roaming in the forests along the soft banks of the Kalindi?" They were always lamenting, overwhelmed and burning in feelings of great separation as they wandered throughout all Vraja-mandala." (Sri Sad-Gosvamyastakam, verse 8)]
Sometimes in Vrndavana and sometimes in Radha-kunda, he was weeping and rolling on the ground, crying bitterly: "Radhe! Radhe! Radhe! If You do not give me Your mercy, I shall die at once." He used to do this kind of bhajana, nirjana-bhajana, in solitary places.
He also made a vow not to initiate anyone, but Srila Bhaktisiddhanta Sarasvati Thakura had vowed, "I will not take initiation from anyone but Srila Gaurakisora dasa Babaji Maharaja, otherwise I will die." Srila Bhaktivinoda Thakura had to become a mediator between them. He asked Babaji Maharaja, "What is your duty towards the conditioned souls?"
"To give them mercy."
"Then why you are not giving your mercy to this boy? He is going to die!"
By the persuasion of Srila Bhaktivinoda Thakura, he agreed and gave initiation to this one person only, Srila Bhaktisiddhanta Sarasvati Thakura. He ordered him, "Never go to Kali." Kali means Kolkata. But when Srila Bhaktisiddhanta Sarasvati Thakura was initiated and took sannyasa, even before he took sannyasa, he first went to Kolkata. There he started his preaching, and gradually he preached all over India and the world.
Did he disobey his spiritual master by going to Kolkata? Can anyone claim this? Whoever will speak like this is committing a grave offence. What he did was a great service to his spiritual master. He glorified him all over the world by doing so. Had he not done so, we would not know about Srila Gaurakisora dasa Babaji Maharaja and Krsna. You and I and millions of devotees gather today only due to Srila Bhaktisiddhanta Sarasvati Thakura's mercy, which he received from his guru, Srila Gaurakisora dasa Babaji Maharaja.
Srila Bhaktivedanta Svami Maharaja preached in Western and Eastern countries, but he was a part of Sri Caitanya Mahaprabhu's and Sri Nityananda Prabhu's preaching. The original preachers are Sri Caitanya and Nityananda Prabhu. All gurus in the disciplic succession are obeying them. If Srila Bhaktisiddhanta Sarasvati Thakura, Gaurakisora dasa Babaji Maharaja, Srila Bhaktivinoda Thakura, and Srila Narottama dasa Thakura had not appeared, how could we have come together here? Therefore, we should honor all gurus in the disciplic succession. If we say that our guru is the only one and we should honor only him and not read the books of Srila Bhaktisiddhanta Sarasvati Thakura, Srila Bhaktivinoda Thakura, or others, like Sri Rupa Gosvami's Bhakti-rasamrta-sindhu, then we are offenders and we will not be able to enter the realm of bhakti.
Srila Bhaktisiddhanta Sarasvati Thakura, though he was restricted not to go to 'Kali Rajya,' went there and began to preach from there to the whole world. He collected devotees like Srila Bhaktivedanta Svami Maharaja, and also our Guru Maharaja and others from Kolkata. If he had not started his preaching from there, no one would have come under the shelter of Sri Caitanya Mahaprabhus beautiful siddhanta. So, we cannot say that he disobeyed his Gurudeva.
In this way we also cannot say that Sri Narottama dasa Thakura disobeyed his guru. In fact, he fulfilled the mano-bhista, or internal desire, of his divine grace. We should always try to reconcile these apparent contradictions. Sometimes pure disciples act like this, so we will have to reconcile. If we do not reconcile, we will go to hell.
There are many such incidences described in Srimad-Bhagavatam. One time, Krsna spoke to the gopis: "Go back to your homes and serve your husbands, children, and cows." But the gopis countered His arguments and said, "We are not at fault, You are at fault! We consider You to be our guru. You are instructing us to serve our husbands, children and so on; therefore You are our guru. The guru must be respected and worshiped first, before anyone else. If You are not accepting our worship, then You are guilty, not us." They defeated all of Krsna's arguments, and He was bound to accept their service.
Some time later, the gopis asked Krsna "Why did you tell us to return to our homes and serve our husbands?" Krsna replied, "I never said this. I said that the full moon nights are not dark; but you understood they are dark." In Sanskrit, these slokas have double meanings; hence we should always read and understand them under the guidance of Vaisnavas. Otherwise we may not understand their true meaning.
We should understand that Srila Bhaktisiddhanta Sarasvati Thakura and Sri Narottama dasa Thakuras never disobeyed their gurus; rather they very respectfully 'more than obeyed' them.
Sometimes Srila Bhaktivedanta Svami Maharaja writes in his books one thing in one place, and in other places the opposite. You may find this in many places, but it should be reconciled. For example, he has written in some places that the soul has fallen from Goloka Vrndavana, and in other places that the soul can never fall from Goloka Vrndavana. Here we see some apparent contradiction.
Which statement we should follow? Don't try to follow him by your own intelligence. It is best to read his books with the understanding that his conclusions must be the same as the conclusions of Srila Jiva Gosvami, Sri Rupa Gosvami, Sri Bhaktivinoda Thakura, or Srila Bhaktisiddhanta Prabhupada. If one of his two statements is contradicting the conclusion of Sri Jiva Gosvami or Sri Rupa Gosvami, Mahaprabhu, Sri Bhaktivinoda Thakura or Srila Prabhupada, then we can conclude that Srila Bhaktivedanta Svami Maharaja had one special purpose in that. Otherwise, without this understanding, you will be derailed from the bhakti path and become an offender.
How can we reconcile his statement that the soul has fallen from Goloka and has now forgotten Krsna? He said this for beginners. He did right. Beginners cannot comprehend higher siddhanta. There would have been no use explaining it to them. For example, we may say to a weeping small boy that the moon is here on the tree. The moon is not on the tree, but we cannot give him any sophisticated explanation because he will not understand. Therefore, we tell him that the moon is here on the branches of the tree. This is appropriate. However, when he has gained some knowledge, at that time we can tell him that the moon is not on the tree.
Once we will be qualified, we will understand. We will read Sri Jiva Gosvami, Sri Rupa Gosvami or Sri Sanatana Gosvami and recognize that everything is there in Srila Bhaktivedanta Svami Maharaja's books. He has written something for general persons, for beginners. But his real conclusion is this:
Those who have gone to Goloka Vrndavana are liberated from this world. Either they became liberated, or they are kaya-vyuha manifestations of Srimati Radhika or nitya-siddha manifestations of Sri Baladeva Prabhu. There is no maha-maya in Goloka Vrndavana, only yoga-maya (Purnamasi). Bad thoughts can never enter the hearts of Goloka residents. They are always tasting the mellows of krsna-prema, so how they can fall? Srila Bhaktivedanta Svami Maharaja has told this very clearly many times – I can show it, and others have also told so. We should not be in confusion and thus confuse others.
He is quoted as saying that we should not read any books besides his. Why would he have said this? Because first we should become qualified, and then we must read books like Bhakti-rasamrta-sindhu and Ujjvala-nilamani; otherwise we will lose everything. So, we will have to reconcile all this.
Srila Gour Govinda Maharaja sometimes spoke about raganuga-bhajana. He was qualified to speak about this, but most of his listeners were not qualified to understand how he was nearer than them to the teachings of Srila Bhaktivedanta Svami Maharaja. They could only comprehend primary teachings; they could not sort out such higher topics. Srila Bhaktivedanta Svami Maharaja has written and explained everything in his books, but we need to learn from a maha-bhagavata how to understand his books.
yaha, bhagavata pada vaisnavera sthane
ekanta asraya kara caitanya-carane
["If you want to understand Srimad-Bhagavatam, you must approach a self-realized Vaisnava and hear from him. You can do this when you have completely taken shelter of the lotus feet of Sri Caitanya Mahaprabhu." (Sri Caitanya-caritamrta, Antya-lila, 5.131)]
Actually, there is nothing contradictory in Srila Bhaktivedanta Svami Maharaja's books; rather, he spoke to different levels of devotees. For example, it is written somewhere in Srimad-Bhagavatam that the world is false. This does not mean that the physical world is false, but that the world we ourselves make, our conceptions that "This is my father, mother, wife, and so on" are false; our creation is false. Worldly relations are illusory, but the sun, the moon and the pastimes of Sri Rama and Sri Krsna are not false.
We have to reconcile all these things. But we can reconcile them only if we are associating with high-class Vaisnavas.