ECOV Calls to Service in New Vrindaban
New Vrindaban, USA – April 04, 2013 (VNN)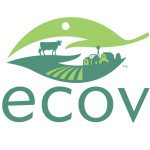 At the start of 2013 ECOV began asking devotees to share their ideas for projects they'd like to make happen in New Vrindaban. We are repeating this request and reminding everyone that ECOV is open to funding projects in and around New Vrindaban that have a clear community benefit and are consistent with our mission (see below).
Since putting the word out in January, we are pleased to report that we are currently supporting the following programs:
1. Nityodita is leading a team that will soon be producing cream, yogurt, butter, ghee and other milk products for the Deities' daily offerings using only milk from New Vrindaban cows.
2. Raphael Canuto is busy planting seedlings for the Deity Garden with a goal of providing all of the Temple's flower needs throughout the 2013 summer growing season.
3. Tapahpunja and his crew are installing three green houses to expand the Garden of Seven Gates agricultural production capabilities by starting the growing season earlier in the spring and extending it later into autumn.
4. Jaya Krsna (Junior) is incorporating environmentally friendly upgrades into renovations at the Guest Lodge, including using low volatile organic compound paint, energy saving CFL bulbs & non-toxic floor underlayment.
5. Madhava Gosh is overseeing the planting of 100 fruit trees, 50 walnuts trees, 110 berries, 20 grape vines and a variety of perennial vegetables; additionally, seven individuals were provided trees to plant at their homes; all of which will add to the overall community food production capacity.
We highlight these examples for two reasons:
First, we want to thank the people mentioned above for stepping forward and developing projects that continue to bring New Vrindaban another step closer to the self-sufficient, Krishna centered village that Srila Prabhupada envisioned.
Second, we want to give readers a flavor of the types of projects we are looking to be involved in, with a goal that after reading these descriptions more devotees will be inspired to step forward, share their ideas and take an active role in expanding these wonderful service possibilities.
By sincerely following Srila Prabhupada's instructions – and working together cooperatively – we have experienced how we can collectively accomplish more, and in doing so help to increase the pleasure of Their Lordships, Sri Sri Radha Vrindaban Chandra.
In Closing: ECOV is currently accepting and reviewing project proposals. If this is relevant to you, please contact any of the members (listed below) and we will be happy to get you a grant application, answer any questions you may have and see if there is an opportunity for us to serve together.
Mission Statement: ECOV (Earth, Cows, Opportunities & Villages) is dedicated to cow protection, sustainable agriculture, self-sufficiency and simple living — all centered around loving service to Sri Krishna, as envisioned by the ISKCON New Vrindaban Founder-Acharya, His Divine Grace A.C. Bhaktivedanta Swami Prabhupada.
Board Members: Anuttama, Chaitanya Mangala, Kripamaya, Madhava Gosh, Navin Shyam & Ranaka.
Advisers: Jaya Krsna (Senior) and Varshana Swami.