A Piece of Wisdom off Slauson Avenue
Los Angeles, March 26, 2013 (VNN) By Daniella Segura via Southla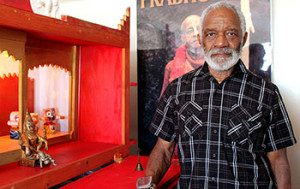 "Greetings friend," said Mr. Wisdom, as a customer came through the door.
"Hey Mr. Wisdom, my brother! How are you today?," said Perry Payton.
"Oh, I'm just trying to be as good as you," said Mr. Wisdom, with a broad smile. Mr. Wisdom
For the past 25 years, the Jamaican native, who goes by the name Mr. Wisdom, has been serving specialty vegan food in South Los Angeles within the Hyde Park community, urging native residents to eat health and try his diet and cleanses.
"Some people, they call me Doctor Wisdom after I help them get healthier, and I have to correct them," said Mr. Wisdom. "I am not a medicinal doctor. I am more like a nutritionist."
The man who runs Mr. Wisdom's Specialty Health Food Store refuses to reveal his real name, and is known to his customers by the shop's moniker.
He started his business to promote, Hare Krishna, the common name for the International Society of Krishna Consciousness movement that is based in Hinduism.
He calls his business "Mr. Wisdom" in reference to Krishna, the god of the Hare Krishna religion, and said that Krishna is the real "Mr. Wisdom."
Those who follow the Hare Krishna religion are strict vegans who do not eat meat or dairy products.
"In Hare Krishna, you realize animals are conscious," said Mr. Wisdom. "They feel pain like you and I. In my religion, it is against the law of nature to cause pain or suffering to any living creature."
Raised in Jamaica, Mr. Wisdom joined the British Army when he was 18. At the time, Jamaica was still an English colony.
"I wanted to find out what made the world tick," he said.
After spending six years in the British Army, Mr. Wisdom stayed in England to get into the entertainment business because he wanted to "sing, dance and perform."
In spite of his efforts, he never reached his dream, saying that the business was too competitive. So, he moved back to Jamaica and lived there for the next three years.
Still on the quest for success and adventure, Mr. Wisdom moved to the U.S. in the 1970s. After struggling to manage a gas station for a few years, he began searching for answers.
"I wanted to know why some people were so successful and other people, who were as equally talented, were not successful," he said.
He looked to self-help books and different religions, but eventually found his answer in Hare Krishna, which he has followed for over the past 40 years.
Mr. Wisdom explained that after finding Hare Krishna, he wanted to do something for the community by selling healthier food and spreading the word about his religion. Yet, he did not have a place to do it. Instead, he sold items like wheatgrass from the back of a travel trailer, which also served as his home.
One day a sick woman came to him for help, Mr. Wisdom said. He helped her improve her diet, which then improved her health. Once she recovered, she came back to Mr. Wisdom to ask what she could to do repay him.
"I said, 'If you know how to buy real estate you can help me,'" he said, as he was preparing food. "She helped me get my own place. That's why I always say the location chose me."
Michael, who did not want to give his last name, helps Mr. Wisdom with his office work and has known him for the past ten years. He said that Mr. Wisdom's work inspires him.
"Krishna and Krishna consciousness are why he does the work he does," Michael said.
"That's his motivation to go in and do his work every morning," he added, while finishing a plate of Mr. Wisdom's curry vegetable.
As he scurries around his store preparing meals for customers, Mr. Wisdom appears much younger than his age.
"I forgot to make more rice," Mr. Wisdom said to one of his customers. "But it's okay. You know why? I always got a back up."
The store's quaint interior contrasts with the congested Slauson Avenue outside.
The room is filled by Hare Krishna music coming from his TV, which sounds like faint chants of "Hare Krishna, Hare Krishna." Meanwhile, the humming of his wheatgrass juicer also plays in the background as he makes a smoothie for one of his customers.
The aroma of Indian curry and spices can be smelled throughout the store.
Many regular customers have grown close to Mr. Wisdom. Payton, who works nearby, comes to Mr. Wisdom's store every day, since January.
"[He's] a very warm person with a caring heart and has the time to talk with you if you need help," said Payton. "We need more places like this out here."
Laron Maull, who has been a customer for the past six years, said he thinks Mr. Wisdom is doing the community a favor by offering them healthier eating options.
"[Mr. Wisdom's] a cool guy," Maull said. "When you find something like this, you continue to come."
Maull currently works as a high school counselor, and said he stops by the store whenever he gets the chance.
Mr. Wisdom said he plans to expand his store by adding another building next door.
"I'm hoping the expansion will help my store take off," said Mr. Wilson. "After that, I want to go back to Jamaica and start another store there."