© 2002 VNN

WORLD

April 23, 2002   VNN7281  



ISKCON Siliguri



BY ANANDA TIRTHA DAS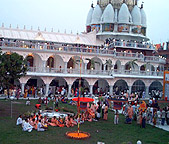 WEST BENGAL, INDIA, Apr 23 (VNN) — Haribol everyone, here are a few photos from the temple opening.

I don't have time to write a full report, but the festival here was a huge success. Huge crowds, lots of media coverage, VIP visits from the King of Puri and Governor of Sikkim, smooth conducting of all the rituals of the installation and opening and more. Pancatattva and Sri Sri Radha Madhavasundara are now smilingly bestowing their mercy on all the devotees and pilgrims who continue to swarm the temple from early morning to late night.

This is by far the biggest temple in the entire North Bengal and is already becoming a landmark spiritual tourist attraction. It's the talk of the entire district. From the view we got while installing Sudarshan Chakra on the top of the dome, it seems to be by far the tallest building in the entire city.

The first photo was taken from the back of the temple at the beginning of the abhiseka.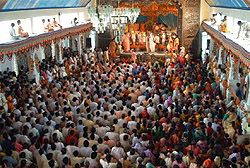 The second photo is of the abhiseka of Advaita Prabhu and Lord Nityananda with the painting on the inside of the temple dome in the background.

The third photo is of the outside of the temple on the 18th afternoon.


Contact VNN about this story

Send this story to a friendThis story URL: http://vaishnava-news-network.org/world/WD0204/WD23-7281.html


---